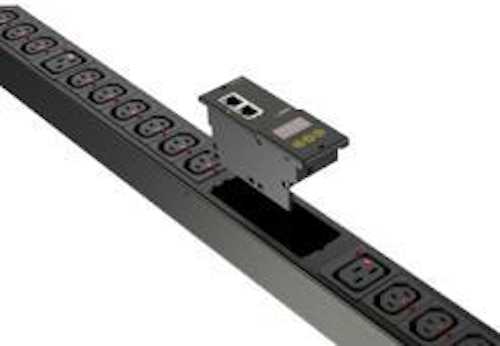 The Geist Upgradeable power strip "offers scalable monitoring features that evolve with the demands of a data center," the company explained when launching the product. "The unit may be installed initially as a basic power strip and upgraded at a later point in time to add power-monitoring capabilities. Alternatively, it can be purchased with intelligence already included."
Geist developed the IMD—Interchangeable Monitoring Device—to incorporate the strip's upgrade capability. "The IMD is hot-swappable and can be changed out while maintaining power to critical servers," the company explained. The power strip as well as IMDs have five-year warranties.
The strips have been third-party tested to ANSI and IEC standards, Geist noted, "confirming their power and voltage readings are accurate to 1 percent." They can be daisy-chained via Ethernet, and the units include rotatable LED displays, locking receptacles to protect against vibration, and low-profile breakers for installation in tight spaces.
"Considerable thought has been put into the design of the new Geist Upgradeable range," commented Gordon Hutchison, vice president of international operations at Geist, "and we know it offers a number of significant advantages to the data center manager. It allows a level of future-proofing in that an intelligent-ready power strip can be installed at the outset, with the ability to upgrade later as needs of the data center evolve."