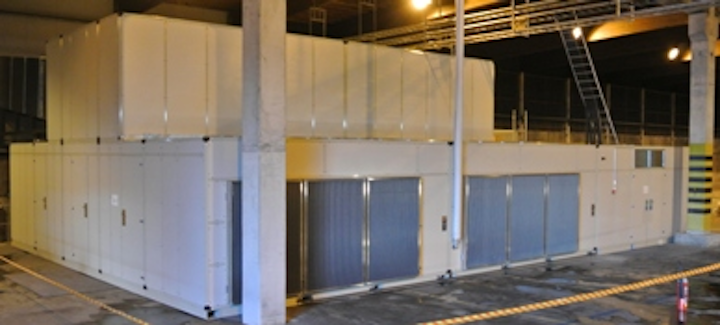 In launching its Data Center on Demand (DCoD) solution today, CommScope cited the projection that the modular data center market will reach $40 billion in 2018—while emphasizing that DCoD is anything but an ordinary pay-as-you-grow system. "With numerous available options, Data Center on Demand offers customers a tailored approach to addressing the needs of today while providing the flexibility to adapt with the business needs of tomorrow," the company said when announcing the new solution.
Kevin St. Cyr, senior vice president for enterprise solutions with CommScope, commented, "Enterprises are dealing with a continual data deluge and have to find ways to expand their capacity quickly and efficiently. Some are up against the wall when it comes to physical space or available power, and Data Center on Demand gives them a viable solution to expand quickly and easily with industry-proven technology."
While March 10 marks the public announcement and general commercial availability of DCoD, CommScope has deployed these types of systems in many sites worldwide, has documented their performance, and can make claims about their efficiency. For example, the company says, DCoD offers "proven annual average data center Power Usage Effectiveness (PUE) as low as 1.01 to 1.06. Industry PUEs typically range from 1.8 to 2.9."
Other Data Center on Demand features include the following.
Proven technology based on systems operating in extreme climates for more than six years
Scalability from one to thousands of racks—the basic modules of DCoD are 1-, 4-, 10- or 20-rack building blocks.
Standardized, repeatable designs that reduce complexity and shorten planning and deployment time.
Customizable configuration with off-the-shelf components supporting multiple Tier levels, security, fire and core infrastructure.
Preintegration with CommScope's iTracs data center infrastructure management (DCIM) package offering command-and-control of the physical infrastructure.
Integration with CommScope infrastructure solutions.
Solutions backed by data center architects, engineers, and a global partner service program.
"It is not just a shipping container with servers," St. Cyr stressed. "It is designed specifically with the same usability and ease-of-access to IT equipment as a traditional data center, but with lower up-front and operating costs."
In an interview with Cabling Installation & Maintenance, CommScope's vice president of data center solutions, Patrick Yantz, described DCoD. "It is a purpose-built solution that has been deployed worldwide," Yantz said, "and really is a culmination of a lot of data center design.
"Ultimately, at the core of Data Center on Demand are the building blocks of 1, 4, 10 or 20 racks. But around them is flexibility. The customer decides what they want in terms of cooling, electricity, fire suppression."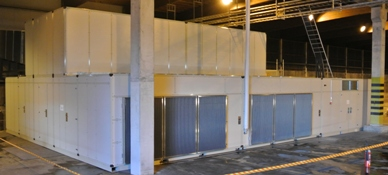 The ability to customize is almost limitless, Yantz stressed, by virtue of the fact that each variable within the system can be user-specified. A number of pre-engineered systems—e.g. electrical, mechanical, cabling and others—are available. But the customer has the option of employing pre-engineered systems or starting with a blank slate and customizing from there—even to the point where a customer ordering two, 20-rack building blocks can specify that one block is Tier 2 and the other is Tier 3.
Yantz also emphasized that with this launch, CommScope wants to be clear about what the solution is not: "It's not a matter of, there's a new box on the market and customers need to fit into this box," he commented.
CommScope has established this web page for its Data Center on Demand offering.