Fujitsu unveils new 100G data center module for singlemode fiber
Fujitsu launches new 100G Base-ER4 CFP2 transceiver.
Jul 14th, 2014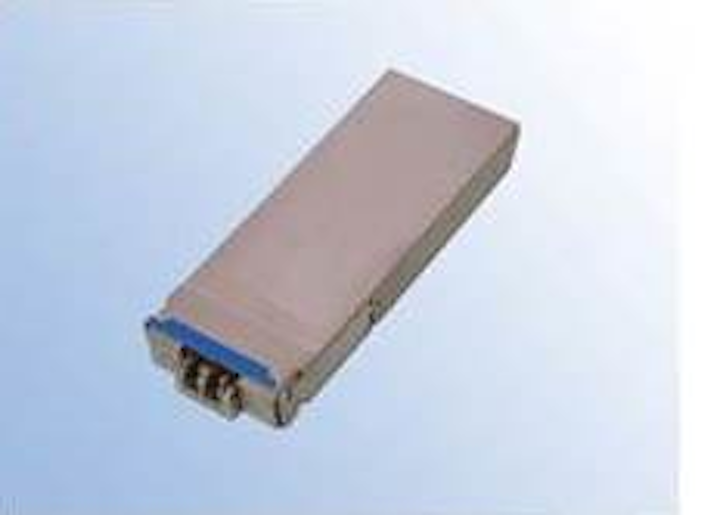 Fujitsu Optical Components Ltd. (FOC) has developed what it claims is the industry's first 100G CFP2 optical transceiver module to support the IEEE 100GBASE-ER4 and ITU-T G.959.1 OTU4 (4L1-9C1F) standards. The 100GBASE-ER4 standard supports 40-km transmission over singlemode fiber and will help to facilitate the development of high-capacity and compact 100G optical equipment used to connect data centers and metro networks.

CFP transceivers (as defined in the CFP MSA) that cover the 100 Gigabit Ethernet LR4 (10 km with singlemode fiber) and ER4 standards are already popular in the market. CFP2 100G LR4 transceivers, which offer smaller size and lower power consumption in comparison to CFP transceivers, have now started to ship into the market as well. Due to technical difficulties, CFP2 transceivers that fully support the IEEE 100GBASE-ER4 and ITU-T G.959.1 OTU4 (4L1-9C1F) standards have not been released into the market though until now, FOC asserts.

FOC says its CFP2 module achieves stable receiver sensitivity characteristics over a wide input dynamic range through the use of a semiconductor optical amplifier (SOA), which is placed in front of the receiver. This technology enables the module to be able to fully support both the IEEE 100GBASE-ER4and ITU-T G.959.1 OTU4 standards (4L1-9C1F).

Related story: CFP2 ecosystem for 40G/100G data center is assembled

The module is also fully interoperable with CFP transceivers that have already been installed in the field. Another key feature of the module is a power consumption of 9 W or less, thanks to optimized control of the optical devices: SOA, TOSA and ROSA. The resulting device is CFP2 MSA Class 3 compliant.

FOC has developed a high-density mounting technology to allow the mounting of multiple optical devices and control circuits inside a limited space – about 37% less in volume compared to CFP transceiver – while maintaining high reliability. In the future FOC plans to release a lower-power consumption version of its CFP2 LR4 transceiver operating at 8 W or less. This transceiver is targeted to appeal to a wider range of users, the company says.

Products will be available from the fourth quarter of 2014. Pricing is available on request.

Source:Lightwave