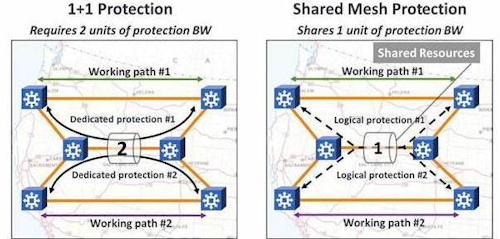 Cabinginstall.com's sister site Lightwave has a good technology write up by Souma Roy and Wayne Wauford of fiber networks specialist Infinera Corp:

Surviving disasters with fast shared mesh protection
Network resilience and disaster recovery are key requirements for today's networks as the hyper-globalized economy drives enterprises to adopt distributed IT architectures, such as data center virtualization and cloud-based infrastructure. This interdependence of business processes and the network, combined with an increasing number of natural disasters and man-made fiber cuts, has made it a requirement for the network to recover in milliseconds. At the same time, network operators are moving towards mesh-based transport networks for richer connectivity.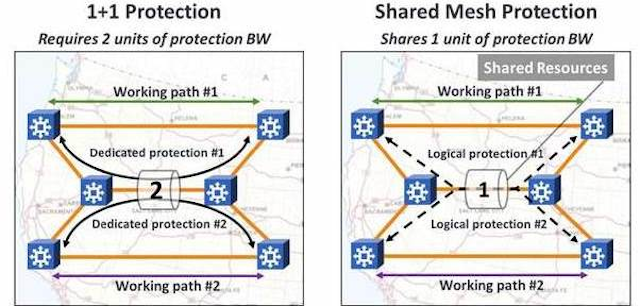 Figure 1. Dedicated protection vs. shared protection

A new class of network resiliency technology, called Shared Mesh Protection, is emerging to take advantage of this architectural shift and deliver more reliable networks at lower cost. Network bandwidth is growing at a staggering rate, estimated at 40% growth year over year, driven by business applications such as cloud, mobile, and video technologies. Advances in DWDM now support over 8 Tbps of data per fiber, composed of hundreds of 1- and 10-Gbps circuits.

At the same time, the importance of network connectivity has never been greater, with virtually every business process now completely intertwined with network connectivity along with mission critical social, safety, and local government services in most countries. Both submarine and terrestrial networks are vulnerable to accidental or, in some cases, deliberate outages. Natural disasters seem to be increasing in frequency and intensity, often knocking out multiple fibers simultaneously.

Read the full story at Lightwave.