Patch-cable management with strain relief
trans data elektronik's tPM system comprises a 1U panel, cable guide holders and foam inserts.
Apr 24th, 2014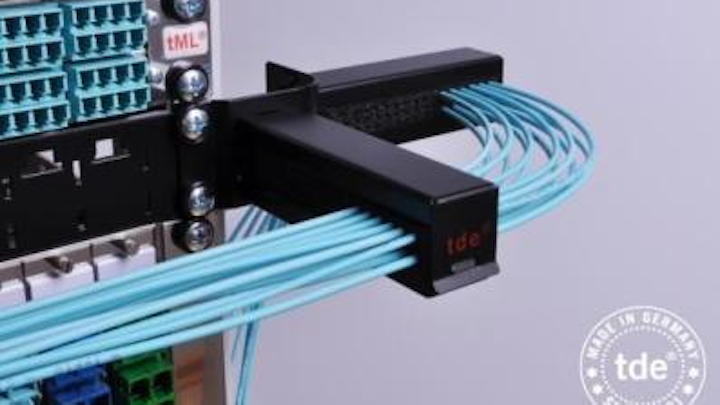 The tPM patch-cable-management solution from trans data elektronik (tde) is a patented system that the company says provides "more order and green IT in data centers" as it enables "organized and flexible cable routing of fiber-optic and twisted-pair patch cables in network distributors." The system comprises three elements—a 19-inch 1U panel, cable guide holders, and foam inserts. The system "protects the patch cables from mechanical strain thanks to its integrated strain relief," tde explains. "In combination with tde's own platforms tML and tSML, tPM creates neatly structured and energy-efficient cabling of a high packing density within a compact unit."
The system's strain-relief capability prevents attenuation caused by microbending, the company explains. "This is particularly advantageous with regard to the low loss budget at high transfer rates," tde says. "Depending on the needs and applications, installers can equip the tPM system with up to nine cable guide holders with different foam inserts and attach them in 17 different positions to the 19-inch panel. Alternatively, there is also an angled bracket for the vertical cable routing. In this way it is easier to lay or re-lay cables, and it is easier to exchange damaged or unnecessary patch cables. At the same time, the improved cable management system contributes to a more-efficient airing of the server rack and so results in more-green IT in data centers."
Tde's chief executive officer Andre Engel commented, "Because of the growing demands placed on technology and capacity, the amount of network cables in data centers is constantly increasing. Our new tPM patch-cable-management system brings order into the network distribution rack and so ensures a significantly improved overview. Some of our customers—from the automotive industry, for instance—are already successfully using our patented system."
The company also points out that system installation is a tool-free process that consists of mounting and locking the cable guide holders. Foam inserts are available with different gaps for various cable types and volumes, according to use. Installers can insert the cables from above into the cable guide holders, and subsequently secure them with the foam inserts and folding mechanism. The system can manage a horizontal as well as a vertical patch-cable orientation.