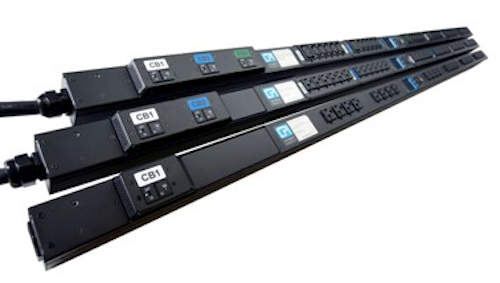 Chatsworth Products Inc. (CPI) recently introduced the eConnect power distribution units (PDUs) for enterprise data centers. "Offering a low-profile design that reduces airflow disruptions, an ambient air temperature rating of 149 degrees Fahrenheit, and more than 160 standard configurations, eConnect PDUs are the ultimate connecting point between thermal innovation and intelligent power distribution," the company said.
The product line includes five models with numerous outlet and plug configurations, offering functionality that CPI says spans from establishing basic connections to equipment, to remote access with monitoring and switching capabilities on each individual outlet. "All eConnect PDUs are also UL Listed in the U.S. and Canada," CPI added, "CE marked for use in the European Union and meet NOM requirements for use in Mexico." It added that models currently available include Basic, Monitored, Monitored Pro, Switched and Switched Pro.
All models are available globally, and each features the following characteristics.
An ambient temperature rating of 149 degrees Fahrenheit (65 degrees Celsius), which CPI says is capable of any hot-aisle containment solution
A low-profile design with universal tool-less mounting that "easily integrates into your cabinet's zero-U space for maximized cabinet space and airflow," CPI explained
Numerous voltage and outlet options
Additionally, some models in the eConnect product line include what CPI described as "quick and easy setup for remote monitoring and switching, IP consolidation of up to 20 PDUs from a single IP address and easy setup from an interactive local display."
Senior product manager for power and electronics Anderson Hungria said, "The eConnect product line represents a major step for CPI in becoming a world-class in-rack power distribution provider. A lot of engineering, testing and attention to specific customer needs, like flexibility and thermal concerns, went into designing these PDUs. And looking at the finished product you can see that CPI is highly committed to expanding its power capabilities within data centers."
He added that the products "will allow customers to accurately monitor energy usage at the server level and reliably power critical loads in high-temperature environments. eConnect's low-profile flush-mounted breaker design will also improve workspace inside the cabinet and eliminate the risk of accidental shutoffs."
CPI has established an online configurator that allows data center managers and designers to choose PDUs based on specific needs, including input voltage, outlets (IEC C13, IEC C19 and NEMA 5-20R), monitoring, switching and other power-management requirements. You can access the product configurator here.