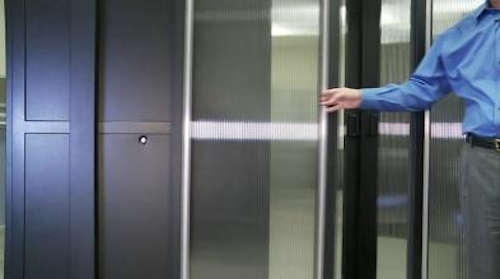 Polargy recently announced the PolarPlex P2 sliding door, an addition to its data center containment product and system portfolio. The 54-inch door covers most 4-foot aisles, Polargy explains, and side extender panels can expand the aisle-width coverage to 9 feet. The door and the side extender panels are adjustable in height from 79 to 89 inches, accommodating racks from 42U to 50U in height.
The company notes, "The PolarPlex P2 sliding door allows data center and facilities managers to avoid the error-prone task of measuring racks of varying sizes and ordering doors to fit. The flexibility of the door ensures it is always in stock, shortening lead time."
Polargy's chief executive officer Cary Frame commented, "Polargy's adjustable sliding doors are the only ones on the market and accommodate most data center configurations. Best of all, they are in stock today and can be shipped immediately."
The door have an automatic-close feature standard, and Polargy also makes available a "hold-open" kit that it says installs in seconds. The door's insert field is replaceable.
The still image at the bottom of this page is taken from a demonstration video of the PolarPlex P2, which can be seen here.