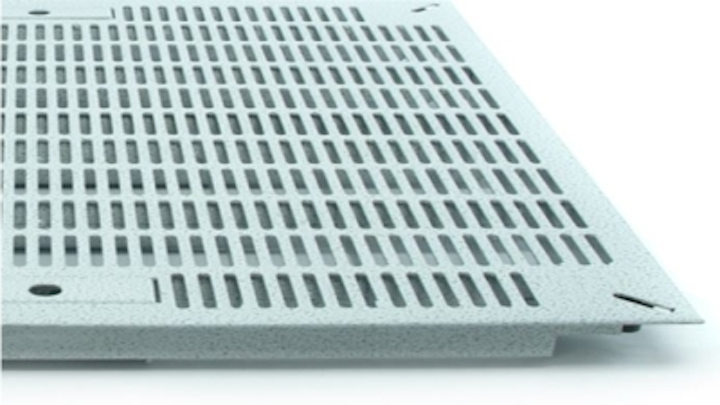 RLE Technologies, which provides web-based monitoring solutions and leak-detection systems for mission-critical facilities, recently acquired Triad Floors from NxGen. Triad Floors is a manufacturer of data center floor tiles and airflow solutions. Both companies' boards of directors approved the transaction on April 10.
"The acquisition adds a new level of diversity to RLE Technologies' product portfolio," RLE said when announcing the deal. The company added that it "will now provide a wide variety of raised floor data center solutions, including Triad's patented high-flow panels, as well as a number of additional airflow and cooling improvement options which help customers achieve industry-leading data center air utilization efficiency (AUE) scores."
Triad Floors created the River Cooling System, which it says provides reductions of as much as 40 percent in data center cooling energy costs by replacing ineffective airflow systems with improved fluid dynamics management.
A photo of one of Triad's slotted raised-floor panels is pictured at the bottom of this page.
"The genesis of this acquisition comes from a strategic planning process RLE Technologies underwent in 2016, which resulted in a restructuring of the firm's management team," RLE explained. "It also identified revenue diversification as a new primary goal for the company, and the purchase of Triad Floors will go far to add an array of complementary offerings for the data center and mission-critical space. Both firms are based in Colorado and manufacture their products in the state."
Jeremy Swanner, RLE's president, commented, "The combination of RLE Technologies and Triad Floors presents a significant opportunity to better protect data centers worldwide. Triad Floors has built its reputation as data center cooling and airflow systems experts for more than 10 years. With this announcement, RLE Technologies is able to provide data center owners and operators with a more-diverse set of solutions to help them maintain uptime in the future."
All current Triad Floors employees will be retained in their present roles. Triad's founder Gary Meyer "will be intimately involved in the transition, future company growth and new product development," RLE's announcement said.
Meyer said, "As technology continues to integrate into our professional and personal lives, the ability to protect infrastructure that keeps it running becomes even more paramount. By leveraging the combined solutions and capacity of RLE Technologies and Triad Floors, the data center industry is in a much better position to accomplish this important goal."