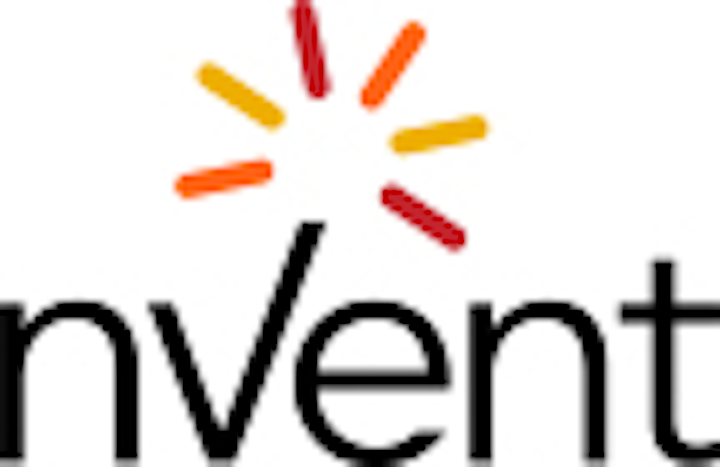 On April 30, nVent Electric plc (NYSE: NVT), a global specialist in electrical connection and protection solutions, announced the completion of its separation from Pentair plc and its launch as an independent, publicly traded company. nVent shares began "regular way" trading on the New York Stock Exchange on May 1, 2018, under the symbol "NVT."
nVent now offers a full portfolio of electrical enclosures, electric heat tracing solutions, complete heat management systems, and electrical and fastening solutions "that connect and protect critical systems across the globe where the cost of failure is high," says the company. nVent says its innovative electrical solutions help maximize customer efficiency, improve utilization, and lower installation costs as well as total cost of ownership, while minimizing downtime.
"With the completion of this spin, nVent has achieved a major milestone in becoming a more focused, global leader in providing electrical connection and protection solutions to customers around the world," said Beth Wozniak, nVent's chief executive officer. "We are going to be a fast-paced, dynamic growth company, focused on our customers and moving with velocity. I am proud to be part of the nVent team and am confident in the strategy and portfolio we have in place to deliver long-term shareholder value."
The distribution of nVent ordinary shares occurred effective at 4:59 p.m. EDT on April 30, 2018. In the distribution, nVent issued one nVent ordinary share for each Pentair ordinary share held as of the close of business on April 17, 2018, the record date for the distribution.
nVent customers include commercial builders, energy companies, data centers and industrial manufacturers. According to a press release, the new company's business – divided into three segments – centers on six well-established brands:
-- The company's Enclosures segment is a leading global provider of electrical and electronics protection products and services. Marketed under the nVent HOFFMAN and nVent SCHROFF brands, nVent enclosures offer two-pronged protection: safeguarding electrical equipment from the operating environment and people from electrical hazards. The nVent HOFFMAN brand includes steel, stainless steel and non-metallic enclosures, modular enclosure solutions, and industrial cooling systems. The nVent SCHROFF brand includes server cabinets, data center cooling solutions, power supplies, sub-racks and cases.
-- The company's Thermal Management segment consists of global leading portfolios of heat tracing solutions and complete heat management systems. nVent RAYCHEM solutions include heat tracing for pipes in industrial plants, buildings and infrastructure, heating system components, fire-rated wiring cables, floor-heating cables and mats, and thermostats and controls. nVent TRACER offerings include turnkey heat management services, including design, engineering project management and construction services.
-- The company's Electrical and Fastening Solutions segment comprises components used to fix, fasten and protect cable and wire systems. The nVent ERICO brand offers components for electrical protection, rail and transit connectivity, telecom installation, and utility and industrial facility electrical systems. The nVent CADDY brand includes fixing, fastening and support products for electrical installation, seismic and fire protection, data communications and heating, ventilating and air conditioning systems.
Search the Cabling Installation & Maintenance Buyer's Guide for companies, new products, press releases, and videos: