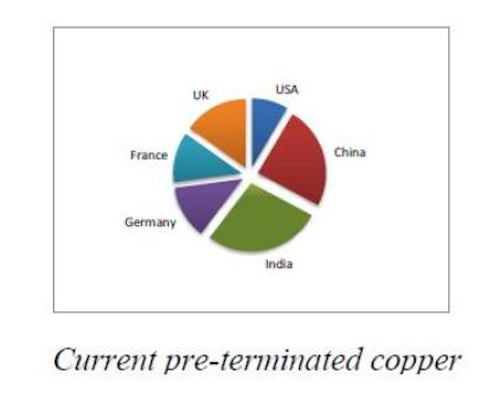 A 105-page data center cabling study carried out by BSRIA and published in November is based on data gathered from 335 data center managers across six vertical markets in the following countries: India, China, the United States, the United Kingdom, Germany and France. "In terms of copper and fiber structured cabling in data centers, these six countries make up close to 70 percent of the data center worldwide structured cabling value in 2010," BSRIA said when announcing the study's availability.
The study was conducted to look at the uptake of high speeds and to discover the media over which these speeds are being run, or plan to be run by the end of 2013.
"Overall in data centers surveyed in 2011 across the six countries, the copper-to-fiber ratio is 42 to 58," BSRIA said, adding that the use of MPO-style connectivity and preterminated cabling is increasing. The pie chart at the bottom of this page shows the breakdown of preterminated copper cabling by country.
"There is some ambivalence toward the decisiion between using structured cabling or point-to-point links for future 10G copper links," BSRIA noted.
The report is accompanied by an addendum that includes more detail on each country's market. The study is available for 7,500 pounds. You can contact BSRIA here.