Siemon adds 40+Gb/s QSFP+ passive copper cabling assemblies for data center interconnect
The 4-lane, low latency interconnect provides up to 10+Gb/s of bandwidth per lane to support server blade to box, rack-to-rack and shelf-to-shelf applications.
Jul 21st, 2010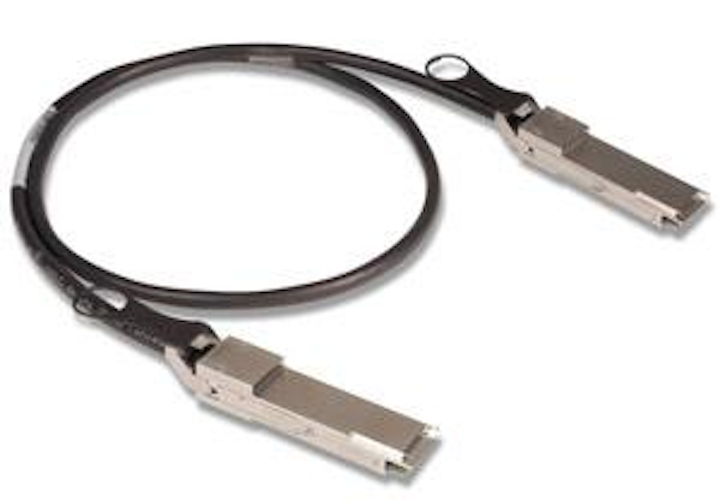 Watertown, Connecticut -- Siemon announced the release of its 40 Gb/s 40+Gb/s QSFP+ (Quad Small Form-Factor Pluggable Plus) passive copper cabling products. The company says that these shielded 4-lane copper cable assemblies were developed as a low-power option for high-speed data center interconnects up to 10 meters, ideal for applications such as high-performance computing (HPC), enterprise networking, video networking and network storage systems.
Related News:Siemon adds QSFP+ 40G active optical cable
The QSFP+ form factor interface can replace up to four standard SFP+ connections, providing greater port density and reduced system cost. Advanced design and manufactring processes, such as precision wire stripping and a unique automated termination process result in optimized cross talk and Return Loss. The same automated processes result in Siemon's QSFP+ assembly's consistent and industry leading signal integrity performance.
Interoperable with compliant SFF-8436 interfaces, Siemon's QSFP+ copper interconnects are fully compatible with a wide array of data protocols/interfaces, including InfiniBand 4X SDR, DDR, QDR and FDR as well as Ethernet 10G, 40G (IEEE-802.3ba) and SONET electrical failover 40G links. They also support Fibre Channel SAN 10G, 40G and SAN; RapidIO and Myrinet 40G systems links. Other applications include CameraLink2 Video Vision networking, Digital Signage networking, Converged and Unified fabric networking as well as NUMA, QSnet, AuroraIO, RocketIO, StratixIO, VITA-55 and VITA-VXS systems links.
Related News:Siemon debuts 40+Gb/s SFF-8470 passive copper cabling assemblies
Siemon also offers application specific assembly solutions integrating QSFP+ interfaces in hybrids, hydras and other value-added configurations as well as varied EEPROM programming options, wire gauges and assembly lengths.
This interconnect is part of the Siemon's high speed connectivity products that include Moray QSFP+ AOC's and MTP Plug and Play solutions as well as a variety of innovative category cabling products. For more information, go to www.siemon.com.