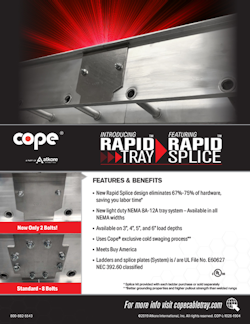 Cope
Cope (Harvey, IL) has introduced Rapid Splice, a newly designed splice plate for the company's Rapid Tray system that adds more efficiency to the installation and management of cable tray systems.
The new design eliminates 67 to 75 percent of cable tray hardware, reckons Cope, saving cabling contractors and installers time and labor costs, while reducing support requirements, and enhancing the structural integrity and strength of the system. 
Per Cope, "Rapid Splice can be used in a wide range of cable tray configurations. It's designed to fit snugly to the C-Beam profile of the cable tray ladder to create superior lateral strength and rigidity across the ladder sections. Due to this added strength, only two bolts are needed to secure Rapid Splice in place, saving time and labor for the installation crew." 
Rapid Tray uses Cope's proprietary cold swaging process, which the company says provides better grounding properties and higher pullout strength than welded rungs.  
Fabricated in light duty aluminum, Rapid Tray conforms to the National Electrical Manufacturers' Association (NEMA) specifications for 8A and 12A tray systems: 8 and 12 feet spans respectively, and 50 pounds per linear foot working loads. The splice plates are available in 3, 4, 5, and 6-inch load depths, and work with all Cope's current fittings and accessories.  
The Rapid Tray System and Rapid Splice plates are also UL classified per NEC 392.6 as equipment grounding conductors, eliminating the need for bonding jumpers. Additionally, Rapid Tray meets Buy America standards. 
In 1948, Thomas Jefferson Cope developed the first modular cable tray system and introduced it to the electrical industry. Today the Cope brand is part of Atkore International, and is a premier producer of all major categories of cable tray systems. Products are produced to NEMA standards and range from standard commercial systems to the heaviest of industrial systems.  
Learn more at copecabletray.com. 
Tweets by CablingTweets