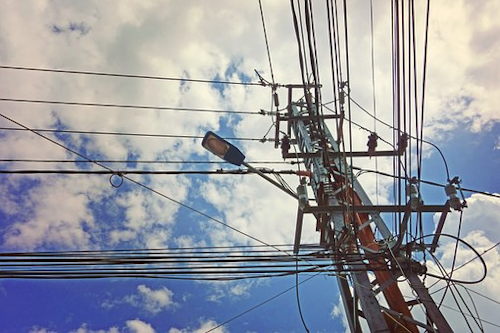 Pixabay
Anixter recently announced Utility Grade INFRASTRUCTURE (UTG) initiative, billed by the distributor as "a new technology platform, assurance program and design approach that redefines the infrastructure layer to support building subsystems, technologies and applications." Anixter's UTG Innovation Partners include Belden, CommScope and Fluke Networks. The program is billed as providing all the essential "foundations of the 4th utilty."
"Utility grade infrastructure is required to facilitate digital transformation," states the distributor. "Building technology is rapidly evolving to meet productivity and efficiency demands of building owners, managers and tenants alike. Essential to keeping up with this rate of technology change is an advanced infrastructure layer that supports seamless connectivity, building automation and control, as well as the convergence of IT and OT applications across a common platform."
"Every network-enabled device requires connectivity, power and security," notes Anixter. "UTG provides a specable, interoperable and future-ready solution, ensuring these elements are addressed across all building systems."
Foundational elements of UTG, according to the distributor, include:
Utility-Ready Structured Cabling - Core to the UTG program is offering new UTG-rated cabling solutions from world-class manufacturers. This will be available for project specification on July 15, 2019.
Advanced Power Delivery - UTG will address advanced power delivery through definite testing of UTG-rated cabling solutions. These UL verified solutions will include design recommendations and higher potential for bundling size to support more PoE applications.
Enhanced Cybersecurity - As more devices come onto the network, the potential for cyber threats needs to be accounted for. Future phases of the UTG program will offer best practices and solutions that provide enhanced cyber protection for converged building applications.
The distributor emphasizes that the UTG offering can help address different challenges and opportunities that drive decision-making for many stakeholders in commercial buildings.
Installers and integrators should consider that the essential part of a successful UTG deployment is how well the solution is designed, installed and commissioned to meet the specific needs of a project.
According to Anixter, "If you install smart building solutions, the UTG program can help achieve your customer's goals, including: installing, testing and certifying future-ready solutions; meeting accelerated construction schedules; reducing unproductive labor at the job site; simplifying the convergence of systems; and providing solution proficiency from design to install. All of these provide you with competitive advantage and differentiation in your market," adds the distributor.
For architects, consultants and engineers, the value of the UTG offering involves a simplification of the specification and design process, which is "essential to meeting the demands of aggressive timelines and construction schedules for infrastructure projects," notes Anixter. "This simplification also provides a place for network infrastructure to be part of the early design-phase of a project, where it can be considered as a utility alongside electricity, gas and water," adds the distributor.
As pertains to the UTG program, Anixter says that developers and building owners should keep in mind that "there's a revolution happening all around us. Building technology is rapidly evolving to meet productivity and efficiency demands of building owners, managers and tenants alike," notes the distributor.
In terms of the value of the UTG offering, end users and tenants are reminded that "[industry] estimates say the number of connected devices in a commercial building may reach 75 billion by 2025. This has the potential to place an enormous strain on existing network infrastructure," notes the distributor, adding that "the performance of these applications are critical for an organization to achieve their digital transformation goals, including operating with speed, agility and interoperability across multiple systems."
Download Anixter's Utility Grade INFRASTRUCTURE Technical Application Guide