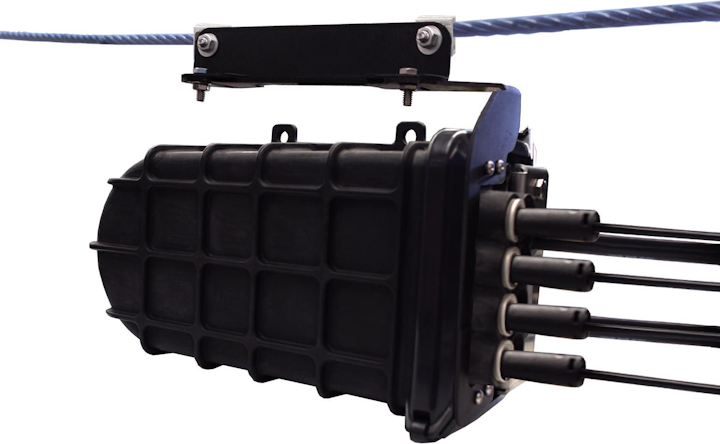 Clearfield recently added the YOURx MultiPurpose Terminal (MPT) to its YOURx terminal product line. The company said introducing this product is consistent with its commitment to designing flexible fiber termination and distribution systems. Clearfield said the MPT is "a craft-friendly, outside plant-rated housing that configures to meet the business goals for any fiber distribution and drop cable network. The YOURx MPT fits into any business model," the company said, "giving the network designer the flexibility to balance labor and capital expense cost effectively."
"Customers are seeking both midspan and terminal solutions that support fiber delivery with standard connectors, low insertion loss and a cost-effective method for deploying business services and small cells," said Kevin Morgan, Clearfield's chief marketing office. "Only providing the number of fibers needed and consolidating splicing/termination locations saves on both material and labor costs."
The YOURx MPT features the following capabilities.
8 individual sealed distribution drop ports with a snap-in splice chip, supporting 12 loose-tube splices or 36 mass-fusion splices and the ability to store up to 8 feet per buffer tube
Entry point that uses a split-sleeve grommet design for easy installation
Slide-off bulkhead plate allowing installers easy access for cleaning or testing connectors.
Clearfield further explained that Deloitte projects over the next 5 to 7 years, the United States will require an estimated $130 billion to $150 billion in fiber investment to support technologies such as 5G. "Many of the new 5G small cell radio sites require duplex drop cables from the terminal out to the radio equipment," Clearfield said. "The drop ports of the YOURx MPT are large enough to accept 2 LC connectors through each port. Another common 2-fiber application is business-class service—one fiber for transmit and another for receive. Ideal for the distribution and drop portion of any fiber network, the YOURx MPT offers the options to deploy with optical component or midspan capabilities, in-terminal splicing or for consolidation of terminal locations if desired. Network designers have the option to utilize the MPT features to provide patch-only, patch-and-splice, or MPO connectors. The options for connectors, splicing and optical components support limitless configurations. Fiber connector choice is a distinct, added advantage over traditional hardened fiber-optic connector terminals."
The YOURx MPT is cable-agnostic; it accepts any cable with a diameter up to 0.70 inches. Clearfield says the terminal provides easy installation and a water-tight seal for placement below grade, in a similar fashion to a splice case. The terminal is designed to meet Telcordia GR-487 and GR-3125 specifications. It can be installed on strand (as pictured), attached to a pole, attached to a wall, or contained within a pedestal. The internal adapter plate can be configured to accept either 8-SC, 16-LC, or 8-MPO connectors. It has the ability to mix and match connectors within it, which Clearfield emphasizes provides network-design flexibility.
"The YOURx terminal product line minimizes the amount of splicing done in OSP equipment and eliminates the need for splicing downstream of the closure as components, including WDMs, splitters, and drop cables, arrive as preconnectorized assemblies," Clearfield said.