Report: Enterprise PBX market continues slide despite fair economic conditions
Infonetics Research states that globally, PBX revenue, including TDM and IP PBXs, dropped 6 percent in 2014 from 2013.

Mar 10th, 2015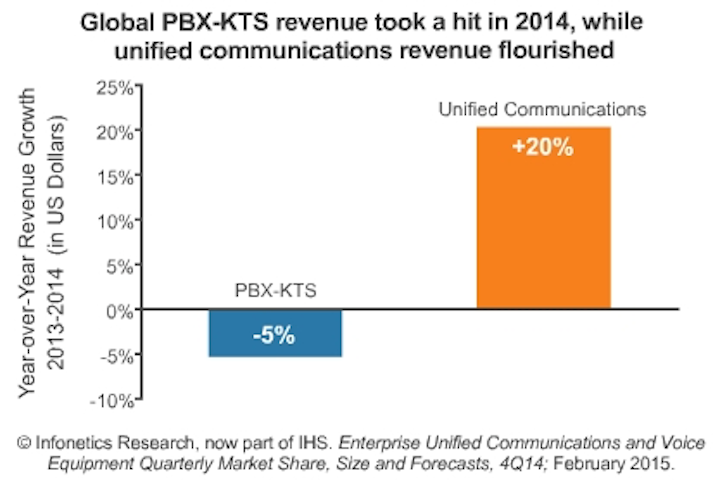 Technology market researcher Infonetics Research, now part of IHS Inc. (NYSE: IHS), reports that the global enterprise telephony and unified communications (UC) market closed having fallen off 4 percent in 2014, to $8.7 billion, as businesses continue to hold off new purchases and upgrades of PBX equipment despite improving worldwide economic conditions.

The researcher cautions that this overall market decline masks the health of the evolving UC applications segment, which jumped 20 percent in 2014, energized by the demand for tools to increase workforce productivity. The data comes from Infonetics' fourth quarter 2014 (4Q14) and year-end Enterprise Unified Communications Voice Equipment market share, size and forecast report, which tracks PBX phone systems, voice over IP gateways, UC applications and IP phones.

"The enterprise telephony market continues to be tough. Just as we see one area begin to improve, it's offset by slowdowns in geographies or market segments," explains Diane Myers, principal analyst for VoIP, UC, and IMS at Infonetics Research, now part of IHS. "Underscoring the declines are not only slowing businesses purchases but also competitive pricing, which has created unpredictable swings. The move to the cloud is having an impact in certain markets, particularly North America," adds Myers.

Specifically, the new report states that globally, PBX revenue, including TDM (time-division multiplexing) and IP PBXs, dropped 6 percent in 2014 from 2013, and dipped 1 percent in 4Q14 from 4Q13. Further, PBX line shipments declined 3 percent in 2014 from 2013; in 4Q14, line shipments were up 4 percent year-over-year, driven by pure IP PBX.

According to Infonetics, in 2014, the top four PBX revenue market share leaders were, in alphabetical order, Avaya, Cisco, Mitel and NEC. Additionally, Microsoft continues to see strong sales on the UC front, says the data, solidifying its position atop the unified communications market share leaderboard. The research ultimately sees vendors remaining in a battle to gain customers, and to hold onto existing ones, as enterprises migrate to IP and UC solutions.