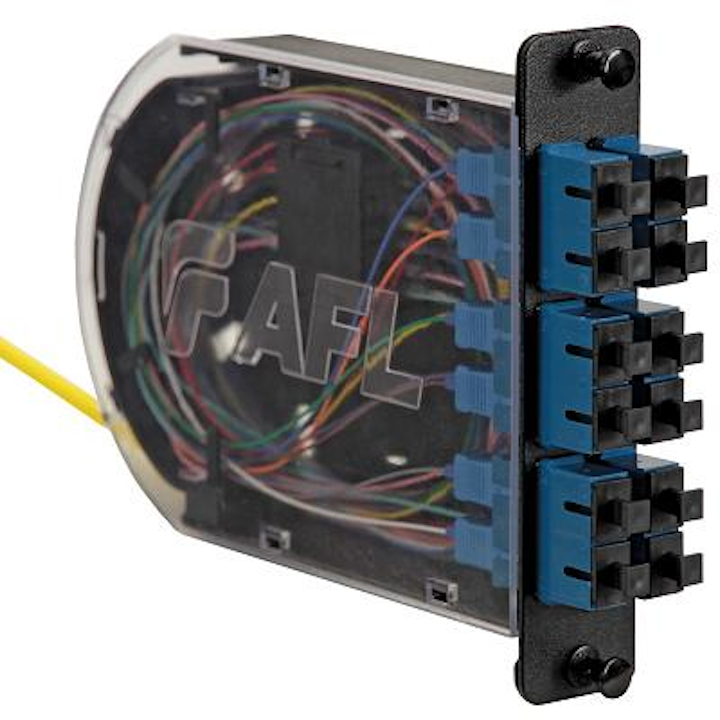 AFL has unveiled its Poli-MOD, a pigtailed optical interconnect patch and splice module especially designed to accomodate network growth. Accommodating up to 24 fiber interconnections in an industry-standard, single-slot LGX 118 footprint, the Poli-MOD module uses a snap-in splice sleeve cradle that securely manages both single and ribbon fiber arrangements.
The company notes that this customized cradle provides a means for the cabling installer to secure splice sleeves prior to routing fiber within the module, thus reducing installation time and minimizing the risk for damaging fiber.

Available in SC, ST, FC and LC configurations, the new Poli-MOD features multi-directional cable entry access and provides the capacity to outfit a standard 4RU rack-mount panel with up to 288-fiber interconnections. The patch and splice module is ideal for use in data centers, telecommunication closets, customer premises, LAN/WAN networks, headends/central offices, hubs, cabinets and remote terminals.

"The new Poli-MOD offers one of the simplest and fastest installation approaches to patch and splice modules within the telecommunications industry," asserts Matthew Johnston, product specialist for AFL. "Previous module designs required time-consuming methods to secure cable, such as using tie-wraps. With AFL's new Poli-MOD, users waste less time during installation."

The Poli-MOD is also offered in an arrangement that supports the low loss budget requirements of Distributed Antenna System (DAS) networks through the elimination of an interconnection point.