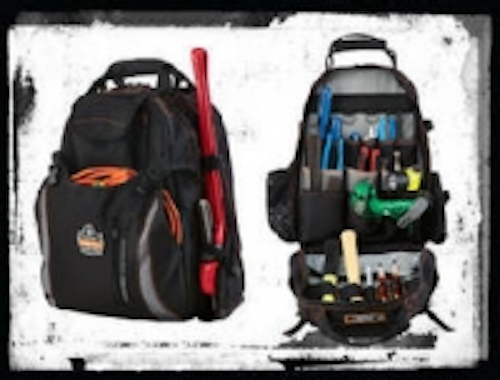 Ergodyne announced the expansion of its Arsenal Tool Storage Collection with the introduction of its Arsenal 5843 tool backpack. According to the company, featuring a unique two compartment design, the Arsenal 5843 is third-party certified for hoisting up to 50 lbs., allowing for hands-free climbing and easy mobility of tools and equipment around the jobsite.

"Workers schlep around all sorts of gear in all sorts of ways creating far too many opportunities for lost productivity and injury," comments Tom Votel, president and CEO of Ergodyne. "The goal of our new Tool Backpack is to provide a safe vessel for transporting that gear in an organized and ergonomic fashion."

With two main compartments housing 26 interior pockets, 11 PALS webbing loops, and 7 exterior pockets of different shapes and sizes, Ergodyne says the new backpack holds a variety of tools and everyday work gear. Nickel-plated hardware and a 1200D ballistic polyester construction with PVC backing provide superior durability, while reinforced padding on the back of the product delivers maximum comfort and breathability.

Additionally, a tall holster on the side panel of the backpack (a feature unique to the 5843) provides a safe spot to store tools that don't fit in the main compartments. Further, ring attachment points found throughout the bag are safe and convenient for hooking up carabiners and other connectors at heights.

"This backpack has all the storage capacity and organization of a top-flight tool bag," concludes Nate Bohmbach, product manager, Ergodyne. "The best part? It's third-party certified to ensure safety at heights and on the ground in a wide range of industries."

Aimed at workers in any industry needing tool storage or for those working at heights, the new Arsenal 5843 Dual Compartment Tool Backpack is available now at all authorized Ergodyne distributors. For more information, visit www.ergodyne.com or call 800.225.8238 or 651.642.9889.