The SmartLoop OTDR is a new test instrument from Fluke Networks that the company says cuts fiber-test time in half because the test crew does not have the move the OTDR from one end of the fiber to the other in order to conduct bidirectional tests. "Bidirectional testing has traditionally been a length process," the company said, "requiring traveling some distance to the far end of the fiber or taking equipment into hazardous or difficult-to-access areas. The SmartLoop OTDR is the industry's first product to test two separate fiber links in a single test. Not only does this eliminate the need to travel to the far end of the connection to perform tests, it also cuts network testing time by 50 percent."
According to Fluke Networks, the tester uses patent-pending algorithms to automatically separate fibers for individual pass/fail analysis and display, which further enhances the ease and speed of testing.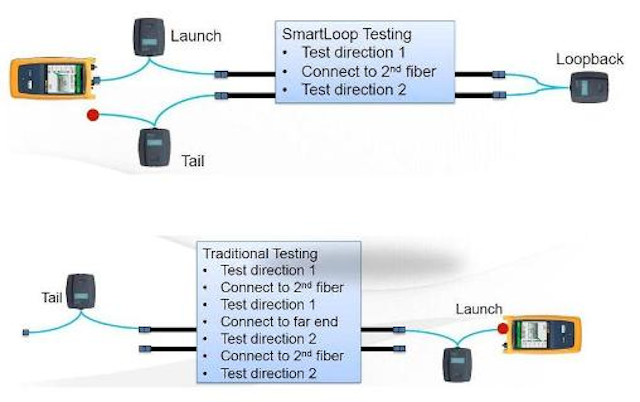 The graphic above was created by Fluke Networks and illustrates the differences in procedures and efforts between traditional OTDR testing (bottom) and testing with SmartLoop OTDR (top). The top image shows the inclusion of a loopback cable at the far end of the link. With that loopback cable in place, the test technician separately connects the OTDR to each of the fibers on the near end. Upon launch, the OTDR sends the test signal down one fiber, then down the other in the reverse direction, before reversing path and returning to the OTDR. Once the technician has done this for both near-end fibers, the testing is done. The bottom image details the multiple steps necessary for traditional OTDR testing—most notably, moving the OTDR to the far end in order to test "direction 2" for both fibers.
SmartLoop OTDR is an addition to Fluke Networks' OptiFiber Pro OTDR and is available as a free update to owners of the Versiv platform.