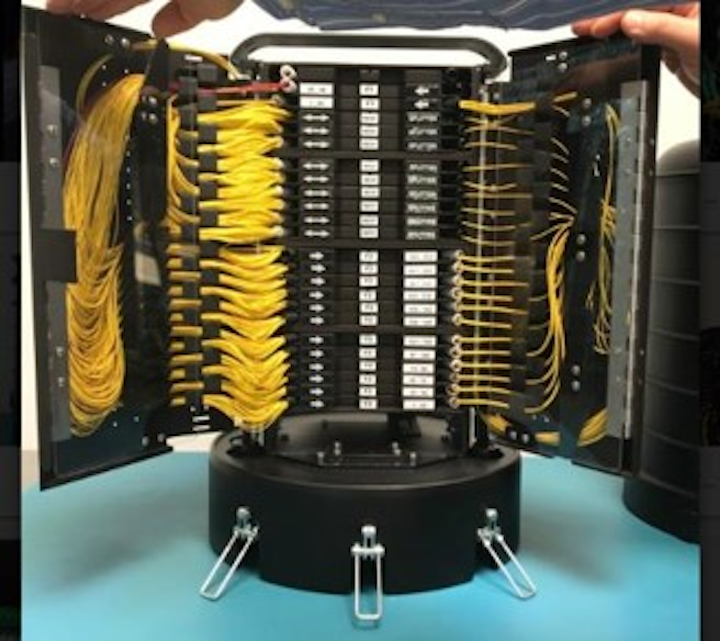 At this week's OFC 2019 in San Diego, Go!Foton, a specialist in high density fiber connectivity solutions, debuted its new line of outside plant fiber distribution hubs and terminals. Capitalizing on its patented PEACOC spreadable adapter technology, the company says this new line of FDH and compact hardened fiber terminals eases OSP fiber distribution by improving technician access to small form factor connectors.
Go!Foton notes that its innovative PEACOC technology previously transformed fiber management in central offices by "allowing greater port density and superior access, while optimizing the use of precious space in highly congested central office rack facilities." Now by incorporating the PEACOC technology into its growing line of outside plant enclosures, Go!Foton says it "allows service providers to better manage the explosive densification of fiber connections required" to support the deployment of 5G, C-RAN and other next-generation PON topologies.
Light Brigade creates Advanced OSP Technician course
For the new product line, Go!Foton has reimagined its PEACOC flexible tray (FleT) cassette with patented spreadable adapter technology to create OSP fiber distribution hubs and compact hardened terminals. According to the company, the PEACOC FDH incorporates high performance PLC splitters, patching, splicing, and connector parking into a highly compact and modular design. Distinctive "wing-based" fiber routing panels provide a highly craft friendly approach to managing the dense field of splitter pigtails and fiber jumpers.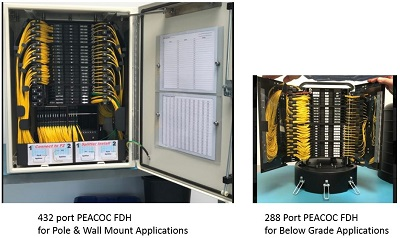 The PEACOC wing-based FDH is available in both a traditional cabinet solution supporting pole, wall, and pad mount applications, as well as both a hermetically sealed dome enclosure and a highly innovative enclosure for strand mount applications. The PEACOC compact hardened terminal on display during OFC 2019 supports up to 48 fiber connections in an enclosure small enough for concealed pole applications.
With its highly compact and dense fiber management capabilities, the PEACOC based FDH offers service providers small form factor enclosures perfectly suited to supporting fiber densification resulting from 5G, CRAN, and other next generation optical networking topologies. Per Go!Foton, "With the PEACOC fiber management system, service providers will now be able to better control the quality and reliability of their OSP fiber infrastructure, thereby ensuring the highest possible customer experience."
"The PEACOC family of FDH enclosures and compact terminals represent a significant leap in density and aesthetic appeal when compared with traditional outside plant enclosures," said Simin Cai, president and CEO of Go!Foton. "The PEACOC FDH is a perfect bookend on our growing line of PEACOC-derivative products which extends the multi-application capabilities of this award-winning PEACOC platform from the CO and data center all the way out to the far reaches of the optical distribution network."
Learn more at www.GoFoton.com.