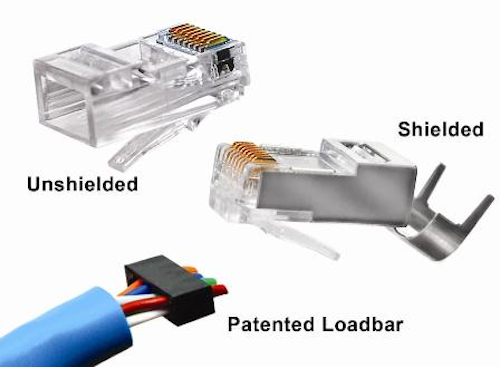 QuickTrex says its new line of shielded and unshielded 8-pin modular plugs make it easy for installers to field terminate so-called 'enhanced Category 6' shielded cabling. There is no official standard called Category 6E or Enhanced Category 6, but some cabling-product manufacturers use the term to describe product lines that provide performance margin beyond the standard-specified requirements of Category 6.
The full line of new plugs from QuickTrex includes the following.
Category 5E modular plugs with loadbar
Category 6 modular plugs with loadbar
Category 6E and 5E shielded modular plugs with loadbar
Category 6A shielded modular plugs with loadbar
The plugs have a staggered one-up/one-down design, which the company says allows for enhanced performance and crosstalk reduction. The loadbar that comes as part of each plug is made of a dielectric material that, according to QuickTrex, absorbs unwanted crosstalk and enhanced ease of installation. They can be used on cables with solid or stranded conductors.
The plug labeled Category 6E shielded contains a heavy-duty shield, QuickTrex says, as well as the Conductive NEXT Reduction System, which is patented. The shielding material assures solid connections to both the drain wire and the shielding connection of the receptacle body, and the shielding's quality virtually eliminates the possibility of alien crosstalk entering the cable, QuickTrex says.