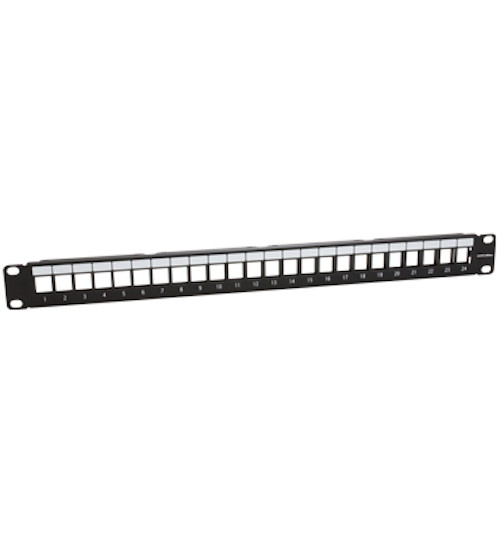 comCables recently introduced three new cabling-connectivity products: an unloaded patch panel (shown at the top of this page), a shatterproof ID faceplate and a set of surface-mount boxes (shown at the bottom of this page). Andy Work, director of product management, commented that the shatterproof faceplates also offer users flexibility. "These faceplates are going to make our contractors' jobs easier, which is what we strive to do," he said. They are available with 1, 2, 3, 4 or 6 ports and in the colors white and ivory.
The flush-mount 24-port unloaded patch panel fits in a 1U space. It works with comCables' Crescendo HD jacks and its Rapid Punch Tool, and includes a wire manager that attaches to the panel's back. The company says the product's major advantage is that it saves installers significant training time when used with the Rapid Punch Tool. Work said, "The comCables unloaded patch panels and RPT [Rapid Punch Tool] give contractors a significant labor savings. Contractors can be trained on installing jacks and patch panels at the same time, while learning to do so with more accuracy and in less time."
The surface mount boxes are available in 1, 2 and 4 ports, also in white and ivory. They fit all four styles of keystone jacks that comCables offers; each has an identification lable on the back.