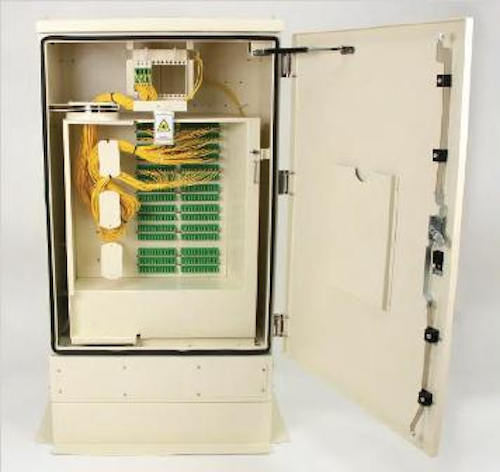 Superior Essex has expanded its fiber-to-the-premises portfolio of products with the addition of a fiber distribution hub and the redesign of fiber dome closures and fiber in-line closures.
The new fiber distribution hub, FDH-288 (pictured at the bottom of this page), includes a swing-out adapter panel that the company says allows easy access to central-office and distribution connections and cable assemblies. It also includes an SC adapter panel that is designed for incremental capacity growth. The hub supports in-hub splicing and the use of custom, preconnected cable assemblies.
The closures now have re-enterable/re-sealable cable port systems. Superior Essex says this new capability makes it easier to install and maintain cable. Each closure supports multiple configurations, such as express, branch and drop terminal. The two closures also support preconnectorized drops, which eliminates the need to splice drops during provisioning, the company notes.
Superior Essex explains that products and capabilities such as these are becoming increasingly important to support "the ever-increasing demand of consumers for more bandwidth" and to accommodate "the looming recommendation of the National Broadband Plan to deliver 100 Mbits/sec to the home by 2020."