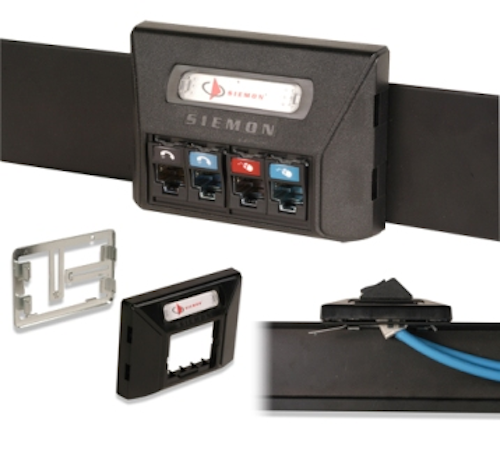 The Universal Modular Furniture Adapter from Siemon adjusts to fit any known mounting requirement of modular furniture systems, the company says. The capability enables cabling installers and system users to deploy a single mounting solution to support a multitude of work area connectivity needs, Siemon adds.
"The new extended depth, modular furniture adapter was specifically designed as a single product solution for securely mounting work area network connectivity in any of today's commonly used modular furniture systems," the company says.
The universal mounting frame attaches to the complete range of furniture opening sizes - 1.3 inches to 1.75 inches high by 2.63 inches to 3.0 inches wide - providing snap-in attachment of the adapter's low-profile faceplates. According to Siemon, the mounting feature uses latching elements that are robust enough to ensure secure faceplate and outlet retention while still providing quick installation.
The Universal Modular Furniture Adapter is available with 4-port Max-style and single coupler CT-style faceplates, to support Siemon's connectivity options and configurations. "The extended design of these faceplates provides additional mounting depth and cable management space," Siemon says, "helping maintain bend radius compliance in space-challenged and often congested modular furniture pathways. Optional angled CT adapters further extend mounting clearance for larger-diameter, high-performance cabling with strict bend radius limits."
Siemon adds that a common concern in modular-furniture connectivity systems - catch points that can cause damage from incidental contact - are overcome by the adapter's low-profile, impact-resistant faceplate design. Additionally, the company says, its angled orientation allows label visibility in low-light, confined locations common to modular furniture applications.
Siemon is offering contractors free samples of the new adapter. More information on the product and the opportunity to receive a free sample is available here.