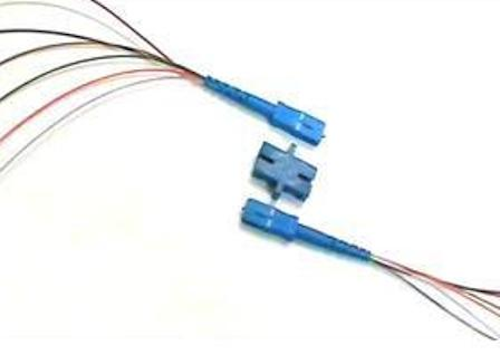 The HeptoPort KSC 7-fiber pigtail, patch-cord and cable fan-out system from Valdor Fiber Optics fits 7 fibers in a connector that is compatible with standard SC bulkhead adapters. Valdor says the new KSC products "offer the highest density per surface area to interconnect optical fibers in the field at significant cost savings to end users." The KSC 7-fiber system uses a two-dimensional self-alignment concept that enables an optical connector to be aligned with a precision alignment key so that when two multi-channel connectors are mated, all seven fibers will be aligned automatically.
Valdor explains, "HeptoPort KSC products can be spliced onto existing fibers without changing the existing infrastructures. This opens up a wide range of applications in central offices, hubs, aerospace, offshore oil/mining and industries where a high-density feature is desirable without having to change the existing SC footprint."
The company further explains that the HeptoPort are compatible with standard panels. "Most panels available in the market accommodate up to 288 single bulkhead adapters per panel," Valdor notes. "Each bulkhead adapter can handle only one fiber. The HeptoPort 7-fiber Pigtails and Patch cords can be used to increased panel capacity up to 7x per bulkhead adapter. The multi-fiber connection capability of the KSC significantly reduces the clustering in space-restricted racks and enclosures."
For example, an incoming cable with 144 fibers is spliced onto the KSC HeptoPort 7-Fiber Pigtails, using a total of 21 pigtails for the 144 fibers. Therefore, only 21 adapters are required for each cable connection, which frees up the other bulkhead adapters in the panel for other cables. For a panel with 144 existing SC bulkhead adapters, seven cables rather than just a single cable can be installed. Panel-to-panel connection is accomplished by installing a KSC HeptoPort A-B patch cord.
Valdor's Impact Mount (IMT) technology is the enabler of this high-density connectivity system. "HeptoPort applies IMT technology to multiple fiber scenarios, with the breakthrough 2D self-alignment feature," Valdor says. "It is a circular pattern of 7 fibers within one ferrule." There are 3 steps to the mounting process:
2D fiber-core alignment using IMT technology
Fiber-to-fiber orientation
Multi-fiber alignment using a precision key