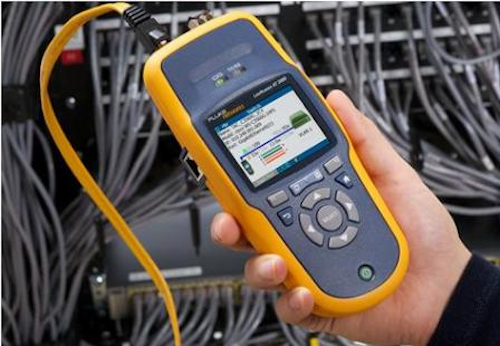 The LinkRunner AT Network Auto-Tester from Fluke Networks provides six cabling and Ethernet connectivity evaluations in less than 10 seconds, the manufacturer says. Fluke says the tester is for use by "frontline technicians and network engineers looking to quickly troubleshoot or verify Ethernet connectivity."
The six tests performed are:
Continuity
Link/speed/duplex
DHCP and DNS server availability and performance
Key resource connectivity through TCP port open or ping
Nearest switch and port identification
Power over Ethernet performance
Gary Ger, Fluke Networks' vice president and general manager, commented, "Increased productivity is at the top of the list for the majority of our enterprise network customers as the economy continues to be uncertain and resources remain constrained. The LinkRunner AT is aimed directly at meeting that challenge for our network professionals by changing the game for Ethernet connectivity testing and productivity of IT organizations."
He added that support for technologies such as Power over Ethernet and IPV6 were critical in the LinkRunner AT's development process. "With trends like VoIP phones and security cameras relying on PoE, and new government mandates about the use of IPV6 driving industry adoption of the standard, this tool ensures we're ahead of our customers' testing needs in the market," he said.
The company says that the tester's "speed and simplicity, combined with the ability to customize additional tests, helps IT managers ensure that technicians at every skill level can automatically perform a standardized set of tests and reduce errors, speed problem-resolution, and improve productivity by reducing errors and callbacks."
Fluke Networks has posted a video introducing the LinkRunner AT. The company has also authored a white paper describing how the tool has a return-on-investment payback period of approximately one month. It is also holding a giveaway promotion.
You can view the video here. From that page you also can download the white paper and find out more information about the giveaway.
Check out the Test Equipment section of our Online Buyer's Guide.