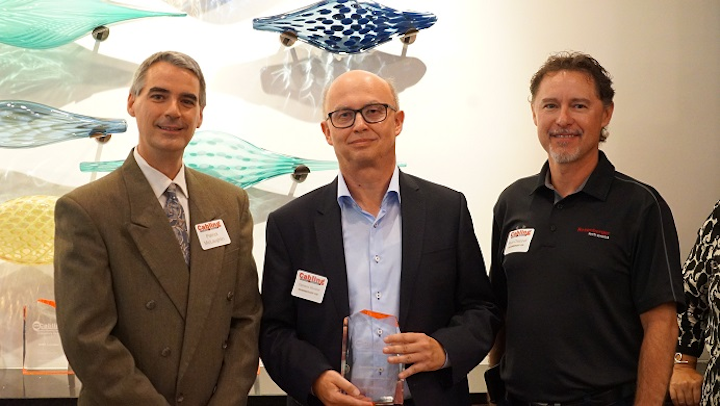 (L to R) Patrick McLaughlin, Chief Editor, CI&M; Clemens Wurster, Research & Development, Ryan Chappell, Business Development, Rosenberger OSI
Augsburg, Germany - September 12, 2018 – Rosenberger Optical Solutions & Infrastructure (Rosenberger OSI), manufacturer of innovative fiber-optic cabling infrastructure in Europe, announces that the company's innovative fiber-optic connector with Lotus effect has been awarded by the jury of the annual Cabling Installation & Maintenance Innovators Awards program. The judging panel consisted of cabling and communications system specifiers, designers, integrators and managers with vast professional experience.
Rosenberger OSI received the Platinum Level Award for the development of an optical fiber connector with dirt-repellent fiber ends with hydrophobic and oleophobic features. The adhesion of any contamination to the glass fiber end surface is thus avoided. This is made possible by applying a coating under low-pressure plasma conditions. This generates an antistatic effect so that particles do not adhere to the surface (Lotus effect). The research project was carried out in cooperation with the PZKL (Photonik Zentrum Kaiserslautern).
"We are very excited having received the award for our product idea: the Lotus effect reduces the installation time and thus the installation cost to a necessary minimum as the cleaning of the connectors is obsolete. In addition, a maximization of reliability is guaranteed because the adhesion of dirt or particles in the optical path is generally prevented," concludes the managing director of Rosenberger OSI, Thomas Schmidt.
Alan Bergstein, publisher of Cabling Installation & Maintenance (cablinginstall.com) says: "This prestigious program allows Cabling Installation & Maintenance to recognize the most innovative products and leaders serving the structured cabling industry. Our 2018 Honorees are an outstanding example of companies who are making an impact in the industry."
The Innovators Awards are judged based on the following criteria:
• Innovative
• Value to the User
• Sustainability
• Meeting a Defined Need
• Collaboration
• Impact
The 2018 Cabling Installation & Maintenance Innovators Awards Honorees are featured in the November Issue of Cabling Installation & Maintenance magazine as well as on www.cablinginstall.com.
Visitors to the BICSI conference in San Antonio have the opportunity to meet the experts from Rosenberger OSI directly at booth 740.