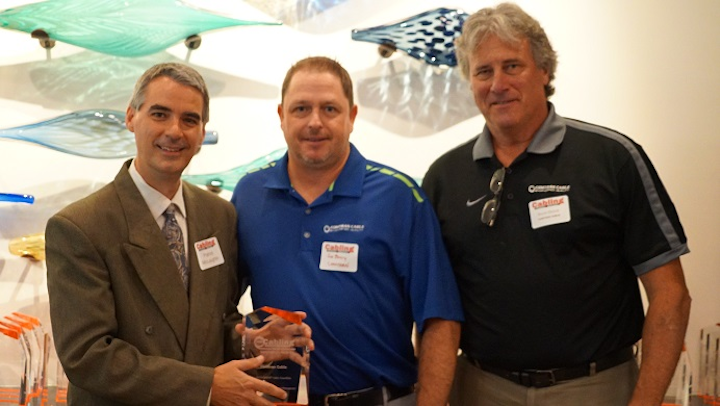 (L; Far R) Patrick McLaughlin, Chief Editor, CI&M; Bruce Sinnott, Director, Business Development, Comtran
Attleboro, MA – Comtran Cable, a leading manufacturer of data and communications cable for use in harsh environments, announced today that its DEFENSE-LINK cable assemblies were recognized by the judges of the annual Cabling Installation & Maintenance Innovators Awards program. The judging panel consisted of cabling and communications system specifiers, designers, integrators and managers with vast professional experience.
Comtran was honored with a silver-level award, building upon its 2016 Silver award-winning DEFENSE-LINK bulk cables. Certified to MIL-DTL-24643 and approved by NAVSEA for use on U.S. Navy vessels, the cables are terminated with RJ-45 connectors and tested at Comtran, resulting in plug and play cable assemblies that are ready for installation. The traditional onboard installation method involves bulk cable reels are that routed, terminated, connected, and tested in confined spaces on the ship. Comtran's solution of pre-terminated and pre-tested assemblies reduces installation time, labor, materials, and troubleshooting, leading to cost savings of approximately 35% for installers and solving a historically time-consuming process.
According to Bruce Sinnott, Director of Business Development at Comtran, "Drawing upon feedback from our customers, we identified the labor-intensive and time-consuming installation process as an opportunity for improvement. We are proud to provide a cost-effective and time-saving product for our customers and are honored to be recognized for this innovative solution."
Alan Bergstein, publisher of Cabling Installation & Maintenance (cablinginstall.com) said "This prestigious program allows Cabling Installation & Maintenance to recognize the most innovative products and leaders serving the structured cabling industry. Our 2018 Honorees are an outstanding example of companies who are making an impact in the industry."
The Innovators Awards are judged based on the following criteria:
Innovative
Value to the User
Sustainability
Meeting a Defined Need
Collaboration
Impact
The 2018 Cabling Installation & Maintenance Innovators Awards Honorees are featured in the November Issue of Cabling Installation & Maintenance magazine as well as on http://www.cablinginstall.com.