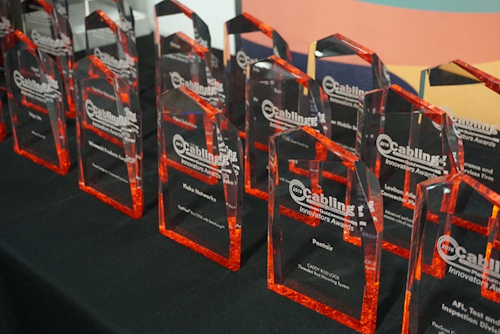 At the 2019 BICSI Fall Conference and Exhibition (Sep. 29- Oct 3) in Las Vegas, Cabling Installation & Maintenance magazine and CablingInstall.com presented its annual Cabling Innovators Awards, celebrating the year's most-innovative applications of cabling and communications technology products, applications and projects.
The awards featured 10 submission categories for products and applications, including one for Active Infrastructure Devices. As defined by the program, "Active Infrastructure Devices include products that effect the generation, transmission or routing of signal and/or remote power. Examples of products in this category include transceivers, switches, media converters, Power over Ethernet (PoE) power sourcing equipment (PSE)."
For the 2019 Cabling Innovators Awards, four such product innovations received recognition, including one Platinum, one Gold, and two Silver honorees. With descriptions provided by each nominated company, they are as follows:
Panduit PoE Extenders – Panduit – Platinum Award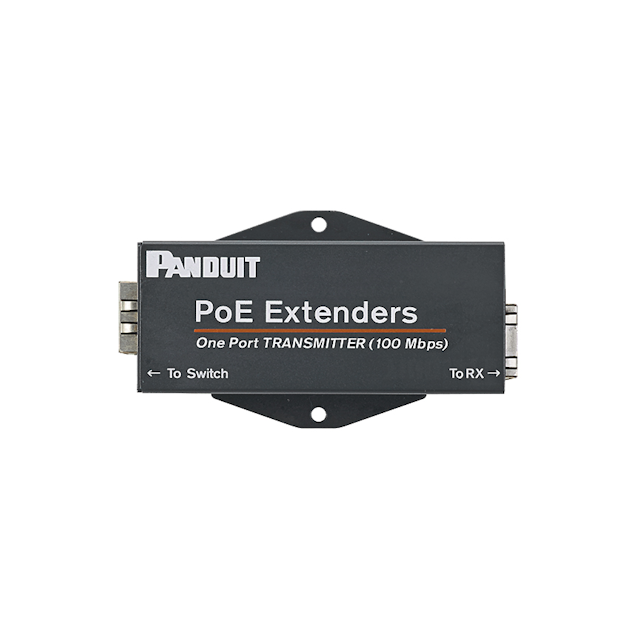 PanduitToday's connected devices are driving the need for power and data to reach further and further. With more devices connected to the network, architects and planners have a harder time designing a building – or a campus – where every connected device is within 100 meters of the nearest telecom room. In fact, it is estimated that a potential 10 million IP cameras need extended reach. To meet that growing demand for extended reach PoE, Panduit has introduced its PoE Extenders, which connect up to 4 devices, at a distance of up to 610 meters – six times the distance of a standard channel. This is all accomplished with standard 4-pair copper cable (for example, Category 6), rather than specialty hybrid fiber cables.
Knowing that every application presents unique challenges, the PoE Extenders are flexible. They will work with both PoE and non-PoE switches. If a non-PoE switch is used, the Extender accepts an external power source and can act as a PoE injector, delivering PoE to the end device. Only the transmitter end requires powering from the PoE switch or external source, powering both the receiver unit and powered device with PoE. The biggest benefit of a PoE Extender solution is financial. For an application like a security camera in a parking lot or on a rooftop, other options for connecting devices are fiber backbone with a media converter and an additional power supply near the end device, or IDF stops along the way. These solutions can cost as much as 80% more than using the PoE Extenders.
View a product data sheet (PDF).
LP-Series Power Distribution Units – Legrand – Gold Award
LegrandLegrand's LP-Series Power Distribution products offer a blended solution of functionality and cost savings. The single-phase line of PDUs comprises models that can be mounted vertically or horizontally, fitting into most applications found in commercial LAN environments or smaller data centers.
Legrand implemented several features into this new line of basic, network-metered or network-switched PDUs that are designed to improve the installation experience and management of a rack's power distribution. The LP-Series introduces a new way to install traditional button mounts onto the back of a PDU. With some similar products in the market, the button mounts are screwed in using small screws, requiring the use of a small screwdriver and can be stripped off in high vibration environments. With the LP-Series, the button mounts are metal and slide onto the back of the PDU chassis and can be secured in place by tightening the button mount itself with either a coin, flat-head screwdriver or by hand. This "infinite adjustability" allows end users to place the button mounts exactly where they need to in order to best position the PDU on the back of a rack. Additionally, many vertical PDU SKUs also features a 330° rotatable inlet cord that allows the cord to exit to the right, left or bottom (or top depending on orientation) of the PDU.
Select LP-Series PDUs also feature locking outlets on C13 and C19 receptacles. The unique cord locking system allows the PDU to lock standard IEC cords without requiring the separate purchase of specific locking cords. This feature prevents accidental disconnects of the power cords and can only be released when the orange button is depressed below the outlet. The above features were built based on customer feedback and industry knowledge. While Legrand sells locking power cords for other PDU units that it sells, several customers wanted the freedom of using a regular cord, so the company designed the locking mechanism to be internal to the PDU itself. The new rotatable power cord also provides a cleaner exit path that makes managing the inlet cord easier regardless of installation orientation, allowing users to dictate the path of the cord. The network-metered and network-switched versions of the PDUs also feature a bright color LCD screen that allows users to directly interact with the PDU and its various functions - including reviewing the network status, addresses, temperature and humidity, and even provide remote door lock functionality with optional accessories.
Learn more about Legrand's LP-Series PDUs.
 

Gen-

Ⅲ

Pyxis Intelligent Infrastructure Management System – Rosenberger Technology – Silver Award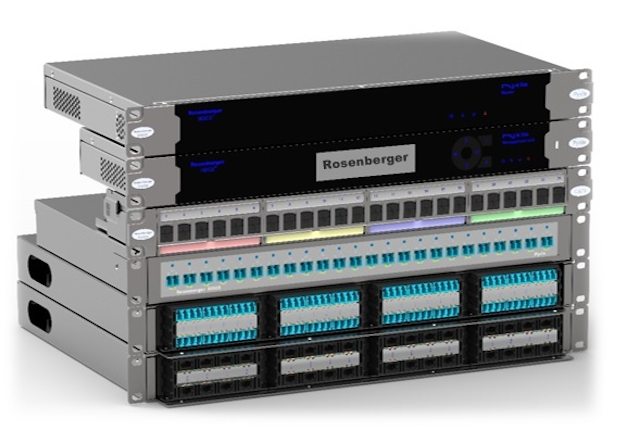 Rosenberger TechnologyA high efficiency intelligent infrastructure management system (iIMS) combining proprietary software and hardware, the Pyxis system can effectively plan and manage network connections, the physical location of equipment, and other IT infrastructure elements in real-time. Infrastructure management via the Pyxis iIMS system can reduce the risk of accidental network interruption due to poor management of the physical layer of the network. In addition, Pyxis iIMS can also serve as an intelligent infrastructure configuration and management tool to provide more efficient maintenance and management via intelligent process management.
Third party statistical data cited by Rosenberger estimates 70% of network interruptions are due to the poor management and maintenance of the physical layer. Especially for the data center, the economic losses caused by unexpected network outages will be assessed per minute and rising year by year. Although the cost of the initial investment in the iIMS system is greater compared to a traditional cabling system, overall investment costs will be increased about 20%-50% via streamlined network planning and applications, estimates the company. For organizations implementing this advanced mode of IT infrastructure management, IT return on investment (RIO) can be improved significantly.
The Pyxis iIMS platform is equally applicable to data centers with complicated network structures, as well as to telecommunications and equipment rooms used to manage the network systems in various commercial buildings. Key features of the system, as enumerated by Rosenberger Technology, include: Efficient Electronic Work Orders; Graphical Operating Interface; LED Intelligent Navigation; Real-Time Network Monitoring and Alarming; Full Link Graphic Display; Real-Time Generation of Infrastructure Reports; Rapid Network Disaster Recovery; Real-Time Asset Management; Automatic Positioning of Physical Locations; Remote Network Management.
View a product data sheet (PDF).
imVision Enhancements – CommScope – Silver Award
CommScopeBuilding networks are rapidly combining data traffic with building management traffic related to HVAC, security and access control. As such, the network is becoming at once a central point of monitoring and control for the building, as well as a security attack surface for malware or hackers. To meet these challenges, CommScope is expanding its imVISION building network management system to include PoE management and to provide physical network security functions that will enhance the overall security of enterprise buildings.
There are a lot of building administration systems but using them as a security and safety platform is a new concept. By incorporating security features into a system like imVISION, CommScope's concept makes the whole building more secure and addresses customer needs for security and safety. With enhanced safety and security monitoring functions, the imVISION system can become the eyes and ears of the building, detecting intrusions, unauthorized changes to the network, and issuing alerts that impact the building networks normal operations.
By monitoring PoE current in bundled cables, the system can enhance thermal management and safety of PoE networks. By keeping track of bundle size, the amount of current on each cable connected to a PoE port, and the total current flowing through the cable bundle, imVISION prevents overheating of any cable in the bundle – a safety feature. This is a preventative holistic approach to PoE that proactively enhances thermal performance of the network, contributing to safe operations of PoE networks.
Learn more about CommScope's imVISION PoE enhancements.