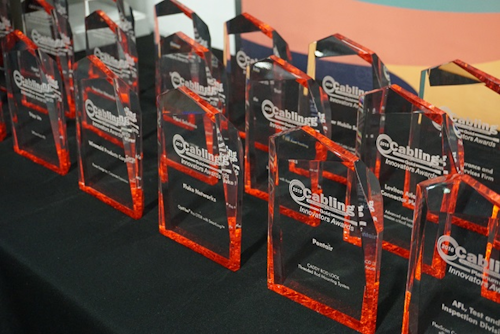 At the 2019 BICSI Fall Conference and Exhibition (Sep. 29- Oct 3) in Las Vegas, Cabling Installation & Maintenance magazine and CablingInstall.com presented its annual Cabling Innovators Awards, celebrating the year's most-innovative applications of cabling and communications technology products, applications and projects.
The awards featured 10 submission categories for products and applications, including one dedicated to Applications and Case Studies.
As specified by the program, "Tell the whole story about a project that displayed the innovative characteristics we honor in this program. Customer-focused and collaborative approaches to projects and cabling-system deployments make a project shine throughout the value chain—from manufacturer to distributor to design and installation pro to end-user organization. This category recognizes innovative and showpiece projects that are exemplary."
For the 2019 Cabling Innovators Awards, seven such innovative applications and case studies received recognition, including one Platinum and five Gold honorees, and one Silver honoree. As described by the nominated companies, the awarded customer application stories are as follows:
FuturePath Figure-8 Self-Support Aerial Fiber Installation in Estes Park - Dura-Line – Platinum Award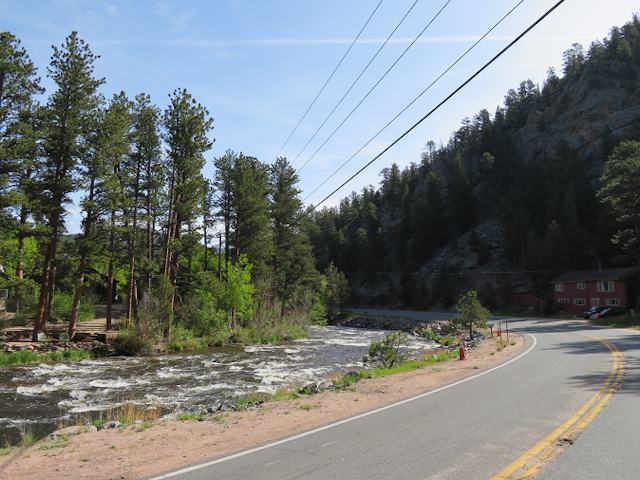 Sitting at 8,000 feet, Estes Park chooses to never have to cross the highway or river again. Dura-Line's FuturePath Figure-8 Self-Support Aerial offers quick and easy access without the need to pull permits or stop traffic.Dura-LineDura-Line's FuturePath Figure-8 Self-Support Aerial was used to bring broadband to a very unique city. Estes Park sits in the middle of the Rocky Mountains at an elevation of 8,000 feet. With all of their poles still being climbed and only 40 percent access to their existing poles, the city decided for a fiber installation they wanted to go up on the poles one time and never have to do it again. Collaborators in the project included: conduit manufacturer Dura-Line Corporation (Remington Peck); distributor Graybar (Rick Hartzler); representative Rally Reps (Danny Reed); and end user and contractor City of Estes Park Power and Light (Joe Lockhart). Estes Park Light and Power set out to offer a new utility to the community, i.e. broadband access.
The initial project went up a 7-mile canyon; because of the FuturePath multi-chamber pathway design with a micro cable, they were able to jet fiber the entire route without splicing. This project helps advance the industry because the traditional install for getting fiber to a community like this would be to strand and lash. When 95 percent of the city is aerial, typically there hasn't been any other options. Colorado is known for its rugged terrain with extreme changes in levels of elevation paired with harsh winter weather conditions, which include wind, snow, and ice. The task was to provide secure, high-speed expandable fiber access to the town of Estes Park using a cost-effective solution.
Buried fiber optic cables are not an option in many locations because rivers and highways are crossed multiple times. Dura-Line's FuturePath Figure-8 Self-Support 7-Way Aerial product was installed on existing power poles in Estes Park. Estes Park Light and Power was able to consolidate the telecom network and clean up the poles, making it safer for the linemen to climb. By bringing the installation and fiber splicing in-house, experienced linemen installed seven pathways one time, instead of multiple installations for separate fiber runs. These installation benefits help protect the scenic beauty for which the area is known.
This innovative product by Dura-Line (Dura-Line's FuturePath Figure-8 Self-Support Aerial, 7-way 12.7/10 mm) allows customers to use existing poles to get fiber to their communities, and still have pathways for the future. In terms of value to the user, going with this product saved the City of Estes Park Power and Light $3.5 million in man-hours. By self-performing the installation, the city's cost came down from $18/ft. to $7/ft. The FuturePath Figure-8 Self-Support Aerial was the only product they could have used to accomplish their goals. Otherwise, they would have had to rock saw at around $125/ft.
This project is unique and the only project like it that is happening in the entire country. Every other customer is using strand and lash and doing it the traditional way. Estes Park chose to go with a new product and in turn has been successful, and saved millions of dollars. Because of the innovative installation, this project has brought high speed broadband into a community where none of the residents ever thought it would happen. The outcome was a flexible, expandable network with dedicated, easily identifiable pathways for system upgrades, redundancy, and future capacity with minimal needs for permits and traffic control. 
Atlanta Braves SunTrust Park – Belden – Gold Award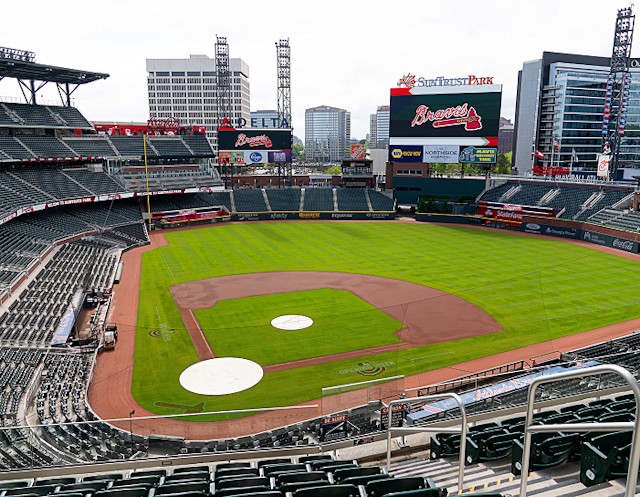 BeldenInstead of spending hundreds of millions of dollars on renovations and upgrades to its existing ballpark, the Atlanta Braves franchise wanted to invest in a new, state-of-the-art venue that would provide fans with a one-of-a-kind digital experience starting before they even entered the ballpark. In addition to the new SunTrust Park construction project, the Atlanta Braves also wanted to create a 1.5-million-square-foot mixed-use development known as The Battery Atlanta, featuring retail, restaurants, apartments, bars, a luxury hotel, a theater and offices leading to the ballpark. The goal was to create a year-round destination that fans would visit even on non-game days. Seamless connectivity needed to flow from the ballpark out across The Battery Atlanta. To bring every third-party vendor and building system onto a single network, a "one-network" concept was explored.
To pull this off, SunTrust Park needed reliable cabling infrastructure that could support tens of thousands of devices, emerging applications and new technologies – including a distributed antenna system; 30 LED scoreboards; 1,250+ wireless access points; and 1,350+ screens – without delays or downtime. The ballpark also wanted to use the network to generate recurring revenue – not only by supporting mobile purchases from fans on game days, but also by selling sponsorships and ad placements that can be displayed on the venue-wide video system, interactive kiosks and digital signage.
To provide the best wireless experience of any North American venue, SunTrust Park needed cabling and connectivity infrastructure to support: 200GB of internet bandwidth; a 5G cellular network; 10,000 ports and 800+ hotspots; advanced Wi-Fi design with the 1,250+ wireless access points located for connectivity anywhere in the ballpark and The Battery Atlanta; radar technology that captures player data, such as spin rate, foot speed and bat angle; display monitors, interactive signage, digital kiosks and scoreboards; POS systems at concession stands; connectivity to the Ballpark app, which provides access to digital ticketing and parking, mobile entry and check-in, interactive maps and directories, Waze integration and seat and experience upgrades; suite control systems and displays.
From racks and cabinets to copper and fiber solutions, all the cabling and connectivity inside SunTrust Park and The Battery Atlanta is from Belden. More than 250 miles of fiber-optic cable and 500 miles of 10GXS Category 6A cable, along with fiber and copper connectivity, are installed. For AV applications, Belden's 4K Ultra-HD Media Cable was used. Designed to deliver 4K content over 100 m in a unique, small and sleek design, the cable provides 100% shielding from noise interference for optimal 4K performance.
With Belden's cabling and connectivity infrastructure working behind the scenes to support increased network capacity, the Atlanta Braves' wireless network enables everything that happens at the ballpark and The Battery Atlanta, from fan-facing services to business transactions. During its opener, SunTrust Park was able to seamlessly connect 10,708 devices that engaged in 23,831 sessions and consumed 3,362GB of data. The Atlanta Braves reached its goal of delivering the best wireless experience of any North American venue, allowing the tens of thousands of people who walk through the gates for every game to be on the network at the same time without any issues. 
Preserving Production Floorspace Without Sacrificing the Network - Chatsworth Products, Inc. (CPI) – Gold Award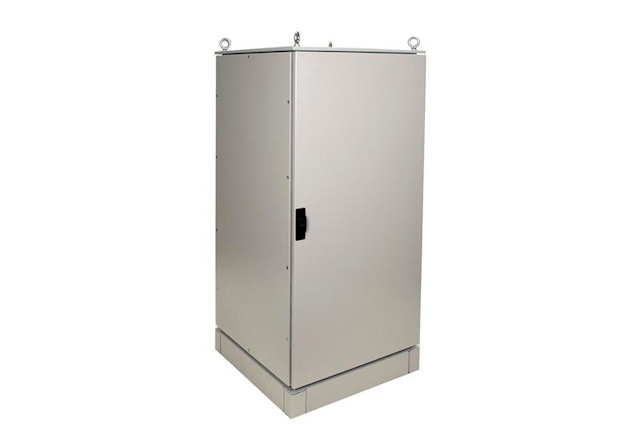 Chatsworth Products, Inc.A growing online food services company needed to expand fulfillment and distribution operations, so it leased a new, state-of-the-art industrial building. The location was responsible for preparation, kitting, packaging and shipping product. This included the manufacturing facility, which was responsible for processing thousands of orders per month while ensuring absolute freshness. Manufacturing also had to ensure the fastest cycle time from the kitchen to packaging and to the delivery trucks as quickly as possible.
To support this automated process, the IT network had to be located on the manufacturing floor, but a number of important considerations and obstacles persisted, including the following points: to maximize capacity, it wasn't possible to give up floorspace for the network; to maintain sanitary conditions, the IT equipment had to be protected from frequent hose-down cleaning; the network equipment required high-capacity cooling but there was no space to add ducting to tie into the building's HVAC system; each cabinet required two air-conditioning units for redundancy, but they had to be placed on the same side of the cabinet, creating an unbalanced load and tip-over hazard; the air conditioner placement created an airflow circulation challenge; the construction schedule was extremely short.
CPI first worked with the project design team to identify the customer's specifications and understand facility limitations. From there, the team worked collaboratively in an iterative process to develop several configurations, with CPI's designers delivering the following custom solution, comprised of the products listed, within an incredibly short turnaround window: the Chatsworth RMR Type 12 Modular Enclosure, in two different sizes, with a unique plinth base system to support the air-conditioning units that would be placed on the lower sides of the enclosures - the two different sizes (47U and 34U) were required to match some locations with reduced height clearance; dual 8,000 and 12,000 BTU air-conditioning units with digital thermostat and communications package with linked controllers; staggered air-conditioning placement to avoid airflow restriction during operation; sealed, reinforced panels and doors to help support the added weight of the air conditioners; a 10" gland plate with dual 6" conduit openings to provide an attachment point for network and power cables; 120 VAC power to use existing power circuits; an anchoring system on top of the enclosure to provide additional bracing since units are placed overhead.
After the project was completed, CPI learned the enclosures were not installed on the production floor, but instead mounted to the building support columns side-by-side, only a few inches from the top of the ceiling, thus preserving valuable production space for the manufacturing operation. This case study highlights the importance of partnering with suppliers who can provide enclosure design expertise in a personalized manner. Because of the nature of edge locations, specifications are not always known upfront or they can change quickly.
Codisa Data Center – Panduit – Gold Award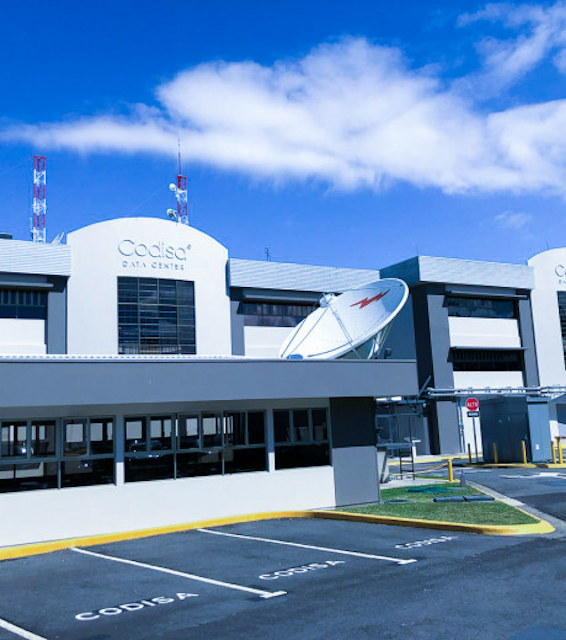 CodisaIn 2018, Codisa began development of its latest data center facility, Codisa NAP in Tibas, just outside of San Jose, Costa Rica. The facility is Codisa's third colocation data center built in the past 10 years, and from this facility they offer both colocation and cloud services. The facility includes a nearly 6,000-square-foot data center, and 13,000 square feet of space that houses the Network Operations Center (NOC) and office space. A former 911 call center, the space had sat vacant for two years before Codisa renovated the building for their use. Codisa's relationship with Panduit goes beyond that of a supplier.
Panduit provided on-site engineering assistance to support the customization of the project. The Panduit solution included several of Panduit's recent innovations, including its Advanced MaTriX cable and Field Term Plugs, as well as its HD Flex High Density Fiber Enclosure system and PanMPO fiber connectivity throughout the data center. Other components of the Panduit solution included fiber cable trunks and labeling and grounding solutions throughout the facility.
Lucas Oil Plaza - Atlona, a Panduit company – Gold Award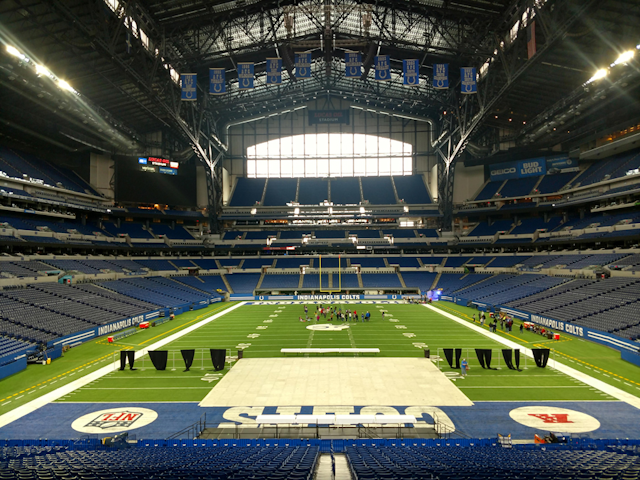 Atlona, a Panduit CompanyLucas Oil Stadium is a state-of-the-art multi-purpose facility seating over 67,000 fans with a retractable roof. Opened in 2008 as the new home of the NFL's Indianapolis Colts, its flexible design can also accommodate NCAA basketball and concerts, among other national and local events. The seven-level stadium design has embraced AV and digital signage technology since opening its doors. Located on the north street level of Lucas Oil Stadium lies Lucas Oil Plaza, a public congregation area for events and concessions featuring a multitude of performance motor vehicle exhibits.
The plaza's original digital signage network included 13 single displays and a 16-screen, 4x4 video wall, blending Lucas Oil promotional content with entertainment. The original AV/digital signage system was manual and de-centralized, using a rack-mounted touch panel to power certain systems on and off, switch video sources and manage control elements. A cluster of noisy, power-hungry and heat-producing 4RU servers that fed digital content began to fail. With centralized control, system reliability, and the fan experience all lacking, Lucas Oil Stadium opted to install a new digital signage network and video wall powered by an AV over IP architecture.
The new network, comprised of seven motor sports themed displays and a more dynamic 16-screen video wall, would be more automated, visible, energy-efficient, scalable, and pleasing to the eye. The Plaza's existing wired infrastructure was repurposed and provided plenty of bandwidth to distribute and control content over IP. New Category 6A UTP cabling was pulled for the video wall. This provided plenty of bandwidth for multiple simultaneous video sources to be displayed. With IT technicians also handling the AV systems integration, there was plenty of comfort when it came to installing and managing AV systems over IP networks. Moving to IP also made sense as a common infrastructure that could scale easily and support new applications and technologies as the customer's AV vision evolves.
The migration to IP also overcame many potential signal and distance limitations inherent in legacy systems. As large as Lucas Oil Plaza is, the customers wanted a system that could achieve greater signal distribution distances, and easily add PoE network repeaters when and where necessary. Atlona's OmniStream AV over IP platform proved the ideal choice for switching and distribution over the network. There was an immediate benefit from the integration perspective: OmniStream worked with the existing wired infrastructure since twisted pair wiring was in place from the central rack to the various displays. Furthermore, OmniStream could operate with multicast transmission applied to each switch. This avoided sending AV traffic to network devices that did not require it, saving bandwidth and eliminating device potential lockups due to related network traffic. Migration to an AV over IP architecture also simplified the transition to centralized control.
The use of an Atlona Velocity control platform over the network has perhaps been the greatest operational efficiency boost for the customer. In addition to eliminating a previously very manual and siloed approach to systems control, it has liberated the staff through remote control operation. Users can remotely connect to control the system over IP, troubleshoot issues, and update the system's configuration among other benefits.
Next Generation LAN Solutions – Corning – Gold Award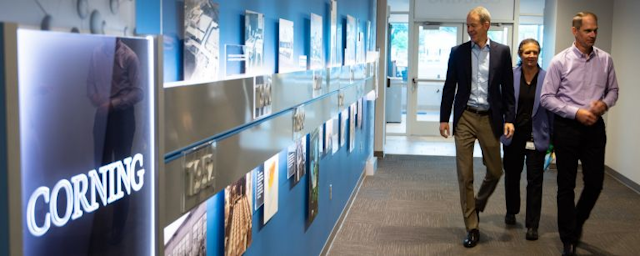 CorningCorning relocated its optical communications division headquarters to Charlotte, North Carolina to support the company's global growth plans. Corning's new HQ was designed to provide a highly collaborative environment for its employees and to be a technological showcase for their products and latest in building innovation. To realize this vision, Corning needed a network infrastructure that could not only accommodate its voice, data, and video needs, but also support the advanced building management systems that were planned to provide an outstanding employee and customer experience. This necessitated deploying a digital optic infrastructure that could leverage the benefits of emerging IoT based building systems from lighting to environmental control to auto darkening windows and network applications.
The traditional cabling approach requires multiple structured cabling runs to support network electronics, security, building controls , and cellular systems. As the number of connected devices skyrockets, interoperability is often hindered by outdated and expensive-to-maintain copper-based local area networks (LANs). These horizontal copper-based LANs are challenged to keep pace with standard connectivity, power and bandwidth demands. Instead of taking the traditional route, Corning and Johnson Controls worked together to deliver a smarter, more integrated technology solution that supported Corning's vision to create future-ready infrastructure that would promote innovation and create a more attractive, productive work environment.
By engaging early with Johnson Controls at the outset of the project, Corning leveraged Johnson Controls' design-assist services to ensure that data-driven, collaborative decisions were made early to help drive technology, sustainability and operational objectives from concept to design and through construction. This process cut installation and lifecycle costs while creating an optimized infrastructure and ensured the building's operations were optimized before it was occupied. Corning's next generation LAN solution was the foundation of this intelligent infrastructure. Corning's partner Johnson Controls deployed an integrated network that converged the Metasys building automation system, security, voice, data, video, Wi-Fi, audio visual, cellular and intelligent window glass systems on to one digital fiber optic backbone.
Corning worked closely with Johnson Controls to model the initial and future cost savings using a next generation approach over a more traditional copper in the horizontal approach. The results were outstanding. The benefits of this next generation infrastructure approach included: a reduction in labor cost through fewer cable pulls and less materials management; reduced materials cost by reducing the pathway infrastructure, including 85% less cable tray; reduced energy cost by eliminating a number of IDFs and active equipment, which also reduced cooling load.
By combining multiple networks over an advanced fiber architecture JCI estimated that the first-installed cost was reduced by approximately 30% and future upgrade cost would be 50% less costly. In addition to these strong cost savings we have deployed a network that delivers reliable connectivity, unlimited bandwidth to the edge, scalability and optimized space utilization. Corning Optical Communications now has a strong digital network in place that will enable Corning's most important asset- their people to collaborate and innovate better than ever before.
Windwave Conduit Installation - Dura-Line – Silver Award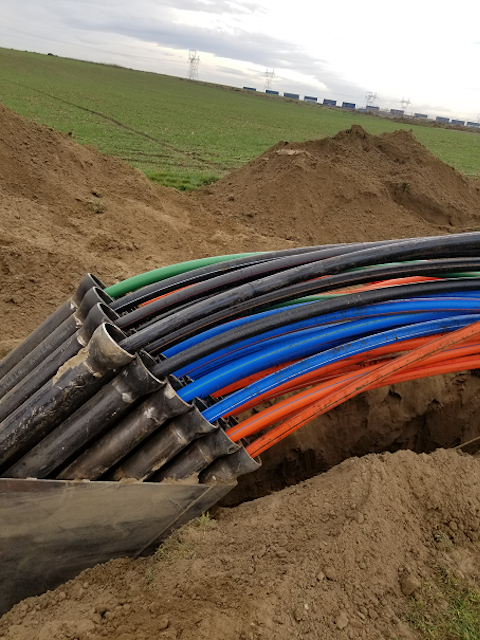 Dura-LineWindwave used Dura-Line's HDPE conduit to create a large duct bank, allowing for large count fiber optic cable to be placed from data center to data center. Windwave needed a compact and organized package to be placed in a trench that would allow for efficient fiber placement with a mind towards emergency repairs. Conduit pathways needed to be quickly identified and isolated in the event of an emergency event. Windwave also needed warning tape and tracer wire to be placed over the conduit bank for locating and maintenance purposes. The goal was to create a system that would allow for all 31 conduits and warning tape to be placed in a single step process.
The idea of using Dura-Line's rolled conduit aided in the installation of the large fiber cables that would be installed within the duct bank because large spans of duct bank could be installed without seams or couplers. The focus of the Windwave Conduit Installation project was also to create a method that would allow for efficient installation with less laborers than conventional stick pipe. The project's installed total of 31 conduit pathways included: twenty-four 2" SDR11 custom printed conduits; six 1.25" SDR11 conduits. The reason the Windwave Conduit Installation project helps advance the industry is that it allows for an alternative installation of a conventional product to produce an unconventional package.
The placement of data centers is critical because of EPA restrictions on the number of backup generators that can exist within a given footprint. Data centers cannot have power failures, and as such have extremely large power and generator needs. This pushes the industry to think outside of the box and boosts a local economy that may have ultimately only been able to accommodate two or three data centers into allowing as many properties as possible that can be acquired and zoned. The data centers are not limited by connectivity due to this method of direct conduit and cabling using Dura-Line products.
Dura-Line's customer, Windwave considered the project a success and so did Windwave's end customer, who wishes to remain anonymous. Windwave said, "The end customer was confident that the best product was placed using the best method with THEIR needs in mind." The rolled conduit used far fewer couplers per mile and large count fiber optic cables were able to be jetted in using a single machine (rather than installed with a capstan or pull tape), which protecting the fiber cable and customer confidence. The conduit was installed in an efficient manner using equipment power. Cost savings were achieved through labor savings and production. This efficiency put the Dura-Line product in service sooner than anticipated for the end customers. The Dura-Line conduits were easily identified and organized in a manner that made them clearly identifiable through color codes and print.
Windwave said, "The plastic pipe is part of an overall new 'package' that simply makes sense in the industry and will likely become the standard for large conduit packages in areas that make it feasible to use this technique. Utilizing an existing product that is already superior for cable placement in an organized conduit bank helps advance the industry into a market area that it had not been considered for in the past allowing data centers to be placed further from each other."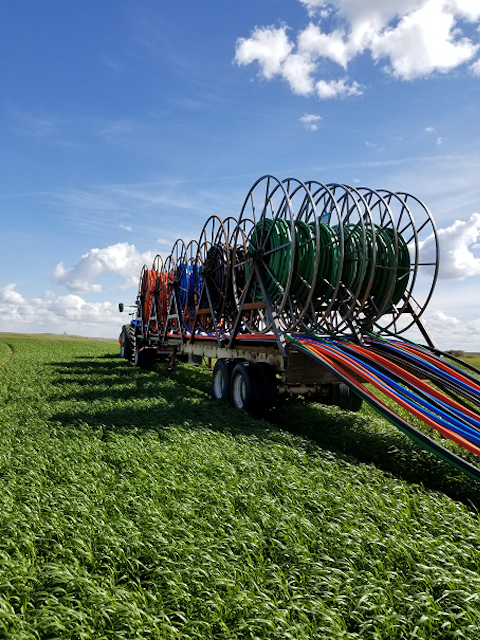 Dura-Line