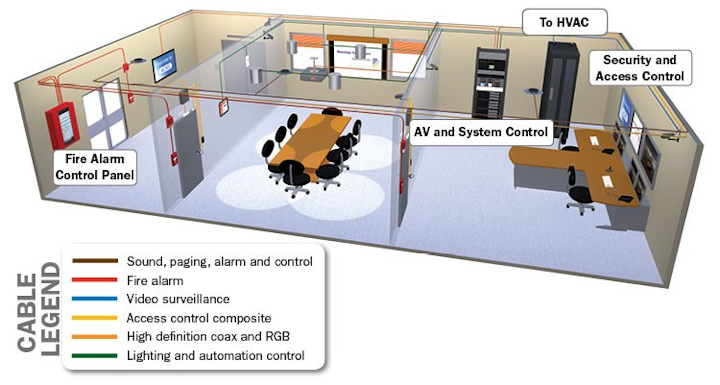 Anixter
A recent technical brief from Anixter recommends that "when it comes to a modern physical security network, it is important to look at each camera or access door controller as a data port and not just a security node on the network."
Further, the brief contends that "due to its affordability and ease of installation, twisted-pair cabling is often the [best] choice for security cabling infrastructure today." (The distributor maintains that "from video and audio cables to lighting and automation control, we maintain one of the world's largest inventories of cable, so we can respond to your low-voltage project needs quickly and efficiently.") 
As ably noted by the tech brief: 
Unshielded twisted-pair (UTP) cabling is by definition manufactured without a shield on either the outer jacket or wire insulation. UTP uses a balanced pair design to reject noise that affects data transmission. In contrast to UTP, shielded twisted-pair cabling (F/UTP or S/FTP) has a different set of installation and maintenance rules due to the foil and/or braid shield used in its design. In a shielded solution, all cables, patch cords and connecting hardware are manufactured with an added metal shield to further reduce potential electromagnetic interference (EMI) that could get coupled onto the transmission line. The metal shield must be grounded to the telecommunications grounding system, which requires additional installation materials, tools and procedures. However, in areas that have high levels of EMI, such as a manufacturing floor, this is the recommended solution because of the high prevalence and risk of EMI. 
"Using network cabling allows a range of devices from IP-based systems to serial devices to be interconnected," continues the brief, which further points out that "for example, a camera connected to an equipment outlet can be easily replaced with a wireless access point or intelligent lighting as the application requirements of an organization change over time."
The brief concludes that "by re-configuring the physical security network for data points instead of specific applications, users can create a network infrastructure with a longer life cycle, more flexibility and greater scalability to meet shifting demands and to accommodate new technologies. Likewise, designers for wireless data networks, DAS systems, voice systems and other IP-based systems look to create infrastructure networks that could support IP security devices." 
Read the full tech brief from Anixter. 
This video from Anixter's lab samples the distributor's offering of biometric security technology, including fingerprint readers, facial recognition sensors and more.