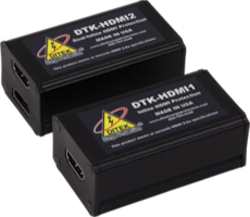 DITEK
Ditek, a specialist in commercial-grade surge protection, announced the launch of its DTK-HDMI family of compact HDMI surge protectors.
Designed for professional use, the company says the rugged single- and dual-channel units "combine state-of-the-art circuit technology with tough powder-coated aluminum housings to provide robust surge protection that is ideal for commercial multi-screen installations." The units are compatible with the latest high-definition formats, including HDMI 2.0a, HDCP 2.2, and 4K UHD.
Two versions of the product are available: the DTK-HDMI1 is a single-channel surge protector, and DTKHDMI2 is a 2-channel surge protector. Both versions use the same advanced design to provide protection while supporting the latest high definition video formats. Both versions include a convenient, versatile mounting bracket and are made in the USA.
"Multi-screen installations such as those found in hotels, sports venues, restaurants, and bars depend on their AV systems to attract and entertain their customers," notes Jason Klein, National Sales Manager at DITEK. "These professional installations deserve professional-grade protection. Our new HDMI protectors support the latest video protocols, are housed in a rugged protective housing, and are backed by a limited 10- year warranty."
For more information, call the company at 800-753-2345 or visit www.diteksurgeprotection.com.