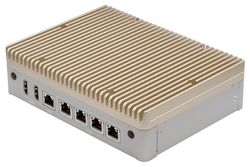 AAEON
AAEON has introduced its BOXER-8170AI, a fanless, embedded box PC built to provide flexibility and stability for AI edge networks. The unit is designed with four Power over Ethernet (PoE) LAN ports, each with its own dedicated chip. This allows for higher bandwidth and stability for each port, allowing PoE cameras to operate individually on dedicated connections. The BOXER-8170AI supports a maximum output of 60 watts for up to four PoE cameras, suitable for a range of AI applications incorporating PoE cameras, such as smart retail, virtual fencing, and access control.
Per the manufacturer, "The BOXER-8170AI features the powerful NVIDIA Jetson TX2 6-core processor, designed by pairing the Dual Denver 2 and Quad ARM 57 processors into a single SoC. This unique design with up to 256 CUDA cores provides speed and performance to power AI edge solutions. The BOXER-8170AI comes with 8GB LPDDR4 memory and 32GB eMMC storage onboard, and supports AI frameworks such as TensorFlow and Caffe, as well as supporting AI inference software from developers and customers."
AAEONThe BOXER-8170AI is designed with a wealth of I/O features including four USB 3.0 ports, allowing for additional cameras or devices to be connected to the system. The unit also features two COM ports for easy integration into industrial systems, plus two HDMI ports, and remote ON/OFF capability. The BOXER-8170AI is built to easily connect to networks with a Gigabit LAN port, and further includes two antenna ports to connect to wireless networks or act as an AIOT gateway. The BOXER-8170AI also features an SD Card slot and USB OTG for easy maintenance.
Built for the harsh environments of industry, the BOXER-8170AI features a fanless design and all aluminum chassis, protecting the system from dust, vibration and other hazards. The unit is capable of operating in temperatures from -20°C to 50°C and features a wide input voltage range of 12 to 24 VDC. With a compact height only 48 mm thick, it can fit into almost any convenient space needed to power AI edge applications.
"The BOXER-8170AI provides users with a stable platform for PoE connected cameras and AI solutions," comments Ethan Chiu, product manager with AAEON's System Platform Division. "Our customers will enjoy a reliable and flexible platform for deploying edge computing networks and developing AI applications."