Keyed RJ45 system adds security to Cat 6 and Cat 6A connections
The Secure RJ Copper System from Leviton Network Solutions prevents accidental or unauthorized moves, adds and changes.
Mar 8th, 2011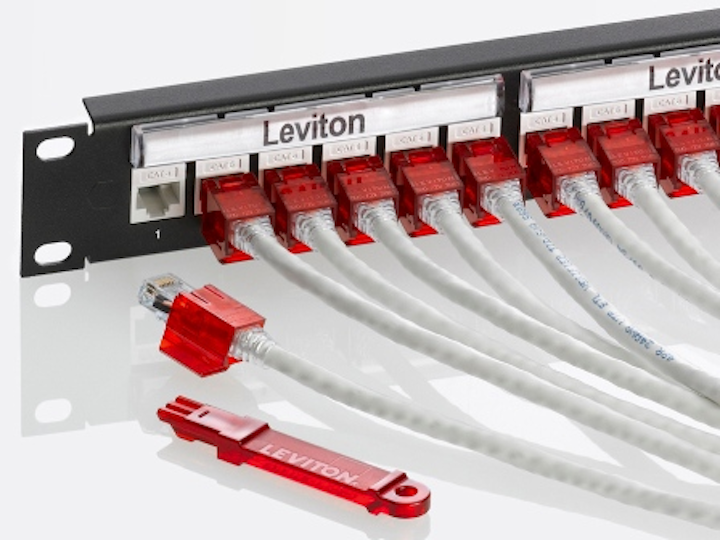 The new Secure RJ Copper System from Leviton Network Solutions serves as a measure of protection against mistaken or malicious moves, adds and changes. Leviton points out the potential environments in which the secured RJ45 system can be deployed for security measures: data centers and collocation facilities, confidential government networks, educational facilities, healthcare, retail and financial institutions.
Additionally, Category 6 and Category 6A patch cords with the Secure RJ housing on just one end can prevent patch-cord theft in publicly accessible spaces.
The system's port-blocking mechanism is a patent-pending device that can be released only by a matching extraction tool. The full Secure RJ Copper System includes patch cords, trunks, port blockers and extraction tools. Leviton points out the system's features support multiple applications within enterprise data networks. It is compatible with high-density network equipment and 1RU, 48-port patch panels, as well as with all flush-mount and most recessed RJ ports. The system's port blockers can be used to prevent access to unused network ports. Eight color options are available to reserve, identify, segregate and secure ports. And the housings, made of transparent polymer, enable port security without blocking the visibility of link/status LEDs on electronic equipment.
Senior copper product manager for Leviton Network Solutions Keith Kosanovich said, "Data security and reliability are top priorities for enterprise networks today. The Secure RJ System addresses these needs by ensuring secure connectivity in high-priority network ports, even in high-density data centers, telecommunications rooms and work-area applications."
The system joins the Secure LC System in Leviton's line of keyed connectivity solutions.