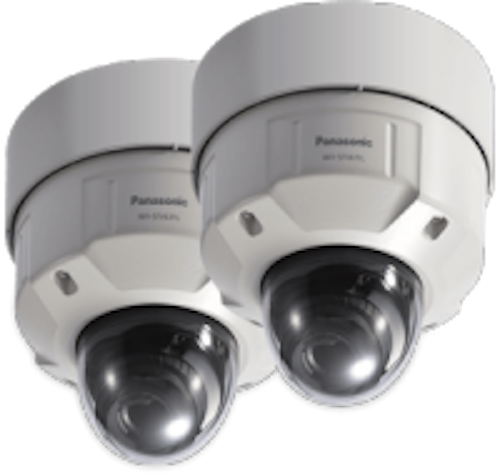 Panasonic System Communications Co. of North America, a provider of integrated video surveillance solutions, announced the availability of the first four indoor dome network cameras in its new 6 Series i-PRO camera line-up. Available in Full HD 1080p or HD 720p models with the choice of standard or vandal resistant housings, Panasonic's 6 Series indoor dome cameras are designed to provide outstanding image performance in all lighting conditions and are the ideal choice for a wide variety of indoor surveillance situations including casinos, airports, banks and retail environments.

Engineered for high performance under any lighting conditions, the new HD and Full HD dome network cameras capture and deliver outstanding high definition image quality. Utilizing Panasonic's advanced, next-generation UniPhier LSI processors, 6 Series cameras produce high-definition resolution at 60 frames per second, enabling the capture of exceptionally clear images of moving objects and feature the ability to encode up to four simultaneous H.264 streams while maintaining use of bandwidth via the UniPhier's very efficient Shadow Compression Engine.
Related news: Anixter offering IP security product bundles for camera video surveillance
Further, Panasonic's Enhanced Super Dynamic and Adaptive Black Stretch (ABS) technologies provide up to 133dB of dynamic range compared to conventional cameras, delivering outstanding performance in highly dynamic lighting conditions. Additionally, MNR (Multi-process Noise Reduction) and Super Chroma Compensation (SCC) functions ensure both bright and dark areas are faithfully reproduced with minimum video noise and accurate color reproduction even under low illumination.

All cameras in the new 6 Series line-up offer exceptional sensitivity delivering detailed video images in low light at less than 0.01lx illumination. For zero lux situations, all 6 Series cameras include advanced IR illumination capability providing clear images of human faces and clothing without the overexposure common in competitors' IR models. A newly developed precision dome cover maintains distortion free images through a wide range of tilt angles further preserving picture quality at the point of capture.

The 6 models feature Dual SDXC memory card slots that support high-capacity H.264/JPEG edge-recording with flexible record modes including alarm-recording and backup-recording upon network failure. Series 6 models are also capable of combining space on two cards for longer recordings or creating mirror copies for redundancy purposes. A new mechanical design, Auto Back Focus and Motorized Zoom (2.8-10mm) lenses allow for easy installation and a newly developed lens with aperture control function ensures that both models will achieve the best focus in any environment.
See also: HD dome security camera operates over standard coax cable
"As the role of video surveillance technology in ensuring public safety expands globally, one thing is clear: It all begins with high quality images therefore it is essential to have a platform to consistently capture the highest quality images, regardless of the lighting environment," said Charlie Hare, National Category Manager, security and evidence management solutions, Panasonic. "The introduction of the new 6 Series indoor cameras further builds upon our commitment to deliver best-in-class security and surveillance solutions beginning with outstanding images to meet the ever-evolving needs of our trusted resellers and customers."