Self-locking outlet covers secure hospital-grade power sources
New from Tripp Lite.

Jan 15th, 2014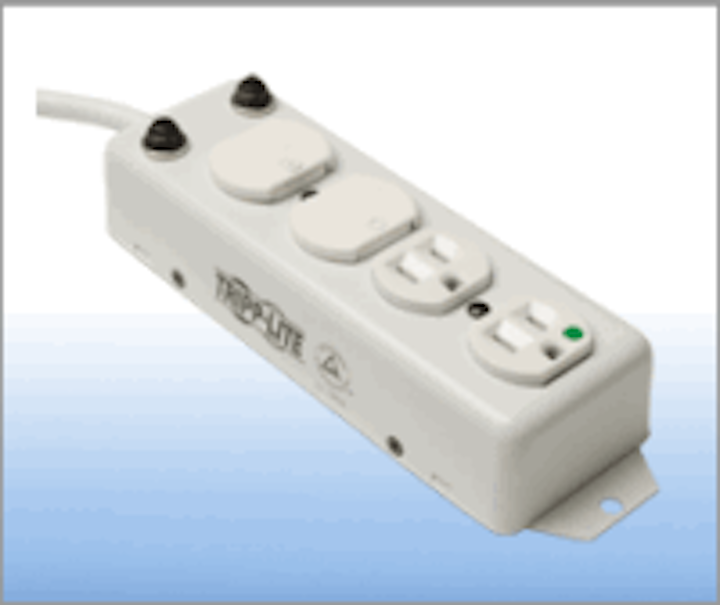 Tripp Lite (Chicago, IL) has, via Anixter, introduced a tooled line of self-locking outlet covers to prevent unauthorized electrical device connections in healthcare environments. With easy "push-in" installation and removal requiring a Phillips head screwdriver, the company says the outlet covers are designed to provide optimum security, adaptability and compliance with safety regulations.

The outlet covers are compatible with all NEMA 5-15R-HG receptacles located on power strips, surge protectors and wall sockets. Their self-locking feature allows for easy installation. Yet the tooling required for removing cover provides hospitals with enhanced physicial security. Compatible with power strips, surge protectors and wall sockets using NEMA 5-15R-HG outlets, the outlet covers are removable, reusable and designed for repeated use.

Tripp Lite is a noted manufacturer of regulatory-compliant, medical-grade power protection and connectivity products.
"Tripp Lite's outlet covers are a smart solution for healthcare facilities where unused power strip outlets remain vulnerable to unwanted access," comments Molly Jantzen, Tripp Lite's director of healthcare sales. "By blocking access to open receptacles, the outlet covers keep connected devices safer by reducing the risk of overload while still allowing for maximum configuration flexibility."
Related: Healthcare, construction experts headline Anixter data center virtual seminar