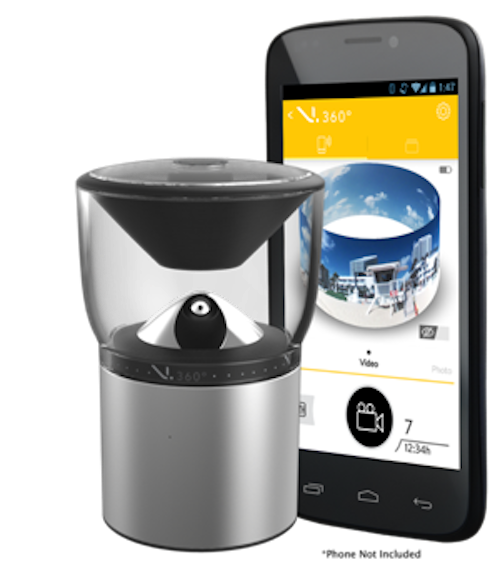 New from VSN Mobil, the V.360° HD video camera is billed as the first device to capture 360 degrees of video or still images with a 4K/16 Megapixel imager in full 1080p high-definition quality. The camera employs a high-quality, 4K/16 Megapixel imager capable of capturing 360 degree video in full HD (6480 x 1080 pixels), comparable to three full 1080p images laid side to side, as explained by a VSN Mobil press release. The imager also incorporates backside illumination for excellent performance even in low-light conditions or underwater.
"This combination of imager and the unique and patent pending optics means the days of stitching images together to get a complete 360-degree picture are over," states the company in a press release.

The V.360° camera supports simultaneous video and still pictures and includes a built-in GPS sensor to tag locations, a barometer/altimeter and an advanced Qualcomm Snapdragon 800 processor. The Snapdragon 800 processor's combination of integrated image signal processor (ISP), 2.3GHz quad-core Krait CPU, Qualcomm Adreno 330 GPU and video processor enable the V.360° camera to capture, de-warp and encode 360 degree images at higher frames per second and lower latency because all of this work is done right on the camera, not off in the app. This means that users can enjoy fast, consistently high quality 360 degree images.
The HD video captured by V.360° is recorded onto local storage and can be viewed live or played back later through a free companion app for Android and iOS phones and tablets. The app lets the user pan through a 360-degree video or image to see every angle -- or lay it flat, resulting in a very detailed panoramic view. The camera can operate in two modes -- it can either be paired with a mobile device for control and playback, or it can be operated entirely with the bundled handheld remote control -- perfect for use on the water or in environments where a mobile device cannot go.
The V.360° camera's durable housing construction is certified to military standards as well as having an IP67 rating, asserts the company. The camera is shock, vibration and dust resistant as well as water immersion resistant to 1 meter for up to 30 minutes. Notably, the V.360° camera is compatible with the standard mount used by GoPro and other cameras, so it can be attached to available helmet mounts, tripods and a variety of other accessories.
"The V.360° camera can capture the experience from every angle at once and let others feel like they are right in the middle of the action," explains Peter Aloumanis, president of VSN Mobil. "Whether hurtling down a ski slope, snorkeling, in a business meeting, at a wedding or on a jungle safari, the V.360° camera is an entirely self-contained device -- not an accessory."
The V.360° has a retail price of $399.00 at www.v360life.com, and includes free shipping. "With a traditional camera you need to point, then shoot. Instead, V.360° captures life's most astonishing moments at every angle simultaneously, so missing the perfect shot is a thing of the past," concludes VSN's Aloumanis. "We also made it tough enough for most environments -- so this unprecedented device truly changes the game."