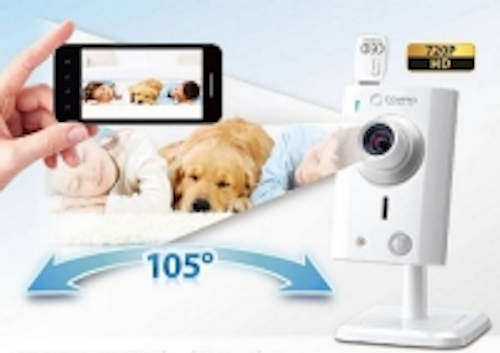 Taiwan's Compro Technology Inc. (Taipei), a specialist in cloud-based IP video surveillance platforms, has announced the latest addition to its Compro TN product series: the TN95W cloud network camera. Designed with a 105-degree ultra wide viewing angle and supporting 720P high-definition (HD) video resolution, the company says the TN95W is optimized for viewing large areas in high resolution, while providing HD monitoring via smartphone.

The TN95W camera can capture 105 degree horizontal fields of view and is billed as a cost-effective option for home and retail settings that can benefit from wide area coverage. In a traditional installation, a camera would need to be installed in every corner for complete coverage, particularly if there are multiple entrances. Alternatively, deploying a camera with a 105-degree ultra wide angle can provide the coverage required to monitor the entire area, with fewer cameras. Use of the camera can reduce installation costs by eliminating the need for multiple cameras, contends the company.

As with all cameras in Compro's TN series, the TN95W comes with the free C4Home cloud app, which drives features including smart motion detection and push notification. Push notification provides instant notice direct to a user's iPhone or Android phone when motion or audio detected. Users can then click/tap to watch live video from a selected network camera for monitoring. Other features of the C4Home cloud app, according to the company, include: drop-box cloud storage, privacy mode, and video sharing.

For complete product and corporate information, visit www.comprousa.com/en.