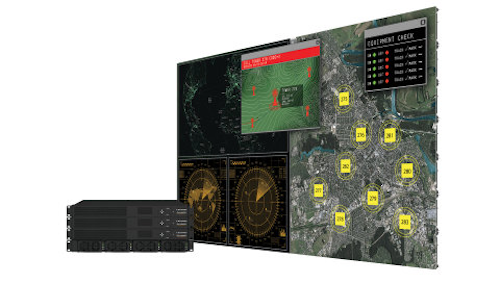 Leyard and Planar, global specialists in visualization products, have introduced the Leyard DirectLight X LED Video Wall System, adding unrivaled video processing and management capabilities into the product.
Per the companies, "The award-winning Leyard DirectLight LED Video Wall System, introduced in late 2016, delivered unique value in the areas of front-mounting, thin profile, precise alignment, front service access, low power consumption, hot-swap off-board power and refined image performance. Leyard DirectLight X builds on this foundation adding the latest 4K video standards, signal extension, multi-source processing, system monitoring and modern web-based graphical control software. The result is a complete system that reduces dependence on external processing systems while making the video wall easier to operate and monitor."
Leyard DirectLight X comes with the Leyard Video Controller, making it the first LED video wall system on the market to integrate a remote power supply and advanced video processing directly into the product, according to the companies. The Leyard Video Controller supports multiple 4K @ 60Hz inputs and the latest video standards including HDMI 2.0, DisplayPort 1.2 and HDCP 2.2. It provides a built-in video signal extension over Cat 6 and optional fiber-optic support for longer video runs and greater signal security. Rack-mounted Leyard Video Controllers can scale to support nearly any size video wall, and allow for scaling, windowing and Picture-in-Picture to give customers flexibility as to how and where sources are displayed. The Leyard Video Controller includes Planar's Big Picture Plus video wall processing capability, which can scale sources across the entire video wall or across sections of the video wall. It also incorporates Leyard WallSync, providing precisely synchronized video playback and genlock across the video wall.
Further, Leyard DirectLight X comes with the Leyard WallDirector Software, a powerful, web-based user interface that simplifies video wall set-up, configuration, operation and monitoring. Leyard WallDirector offers the ability to drag-and-drop sources onto the video wall canvas and easily manipulate their size and position. It also includes presets that can recall video wall windowing layouts, making it quick to configure video wall content. With Leyard WallDirector, customers can monitor the health status of video wall components from a central, local or remote location—proactively troubleshooting their video wall's power supplies and video controllers. Leyard WallDirector is browser-based, cross-platform and can be operated on a tablet.
The Leyard DirectLight X system is available in 0.7, 0.9, 1.2, 1.5, 1.8 and 2.5 millimeter pixel pitches. It features a 27-inch cabinet with a 16:9 aspect ratio, and comes with the Leyard® Remote Power Supply, a redundant and hot swappable power supply that eliminates heat, weight and points of failure from the video wall. With the Leyard EasyAlign Mounting System, Leyard DirectLight X can be fully installed and serviced from the front—using six-axis alignment features to ensure the video wall is perfectly aligned and seamless. The video wall can be installed to occupy less than four inches of depth from the wall, making it compliant with the Americans with Disabilities Act (ADA).
"It is exciting to deliver on the next chapter of the Leyard DirectLight vision," said Steve Seminario, vice president of product marketing at Leyard and Planar. "With Leyard DirectLight X, we incorporate, in the box, the 4K standards compliance, video processing and modern UI that will allow our customers to realize more flexible and compelling video wall installations, more easily."
Leyard DirectLight X is available through Leyard and Planar's global worldwide network of authorized resellers. It was showcased at Leyard and Planar's booth at InfoComm 2018. For more information, please visit www.leyard.com/DirectLightX or www.planar.com/DirectLightX.