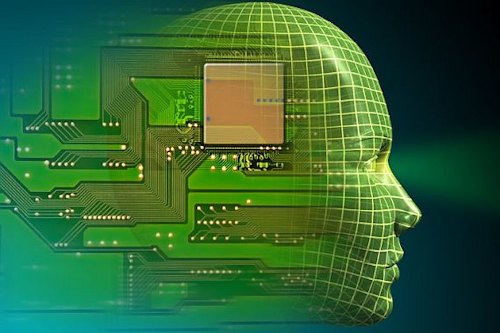 By the MOUSER ELECTRONICS BENCHTOP BLOG -- The 2019 Consumer Electronics Show (CES) began with industry heavyweight IBM setting out its agenda in relation to the realm of artificial intelligence (AI). The company's CEO, Ginni Rometty, gave the event's opening keynote speech, in which she explained that the industry must now look to move beyond machine learning and towards the intuitive intelligence that so-called general AI will one day enable. The medical space is already applying advanced AI technology, a great example of this being the fingernail sensor prototype IBM engineers have developed for combatting the onset of neurodegenerative disorders like Parkinson's disease. This is done by compiling AI inference data on patients' speech and subsequently identifying possible changes over time.
Qualcomm flexed its AI muscles too—unveiling a new automotive cockpit platform, based on its Snapdragon processor hardware, and also featuring its sophisticated image signal processing capabilities and proprietary AI Engine. Comprising cutting-edge positioning/navigation, immersive multi-zone audio and eye-catching visual elements—plus Wi-Fi 6/Bluetooth connectivity—this aims to enhance the overall in-vehicle experience for its occupants. The functionality that can be accessed via the platform includes ultra-wide panoramic displays, reconfigurable 3D digital instrumentation clusters, augmented reality (AR) heads-up displays, etc. Through the AI engine, elevated levels of driver/passenger personalization can be realized, as well as car-oriented virtual assistance, plus features like natural voice control, language understanding and adaptive human-machine interfaces (HMIs).
NVIDIA also had a big impact, announcing a collaboration with German automobile giant Mercedes-Benz to bring advanced AI functionality into the car models of the future. Using the NVIDIA DRIVE technology as a foundation, the two companies envision a whole new unified architecture in which all of the numerous computing operations within a car can be encompassed—thereby raising efficiency levels and boosting performance.
There was plenty of home automation-related activity too, with Amazon, Google, and now Samsung—with its new Bixby product—all showing how keen they are to gain a technological advantage that will allow them to take market share in the digital assistant domain. Boasting enhanced LTE coverage, the Sprint TREBL with Magic Box small cell solution, which debuted at CES, combines an Alexa assistant and state-of-the-art audio performance with a pair of 8W speakers and an embedded amplifier, alongside three integrated far-field microphones and noise/echo cancellation functions.
There seems to be no limit to where automation technology can be applied inside the home, there were even several smart toilet systems exhibited! Adding greater convenience to modern domestic settings, the KitchenAid splash-proof smart display unit has built-in Google Assistant functionality—thereby allowing users to create shopping lists, search for recipes, be given step-by-step vocal food preparation instructions, or watch related video content, as well as offering scope for controlling other appliances. The 10-inch display is touch-enabled, but the hands-free voice command option is ideal when carrying out messy culinary jobs.
The Apple HomeKit ecosystem was substantially bolstered by announcements from the likes of Sony and LG that they will produce smart TVs supporting it. Gaining a lot of attention (and a CES Innovation Award too) was Hive Link—a system designed to give better quality of life to the elderly by enabling them to continue independent living for longer. It relies on a constantly learning AI algorithm through which data coming from sensors distributed throughout the living space is interpreted. This data can then be accessed through a mobile app by the caregiver or family members. In addition, if there is a significant change in the elderly person's day-to-day routine—such as not going to the kitchen to make breakfast in the morning or not having got out of bed—this automatically triggers a response and the caregiver is notified.
Exploring the possibility of home automation HMIs that don't impact too heavily on their surrounding environment, Mui is a smart-home control hub built into a wooden enclosure. There is no indication that there is even a HMI there until it is activated using a simple hand swipe. Then, its LEDs appear from underneath a thin veneer material. The system can act like a normal smart speaker/digital assistant but does not present an unwanted distraction or encroach on 'family time'.
There is never a lack of news regarding robotics at any edition of CES in recent years. Arguably the star of the show this time around was UBTech's majorly upgraded Walker. This bipedal robot takes a humanoid form, though slightly smaller than average human height and build. It can interact with its surroundings by using vision, touch, and voice capabilities. Thanks to improved self-balancing, perambulatory stability is maintained even over challenging terrain. In addition, it has the capacity to grasp/manipulate objects and undertake helpful tasks. Meanwhile, the ElliQ from Intuition Robotics addresses the recurring theme of helping the aged or infirmed—offering them a companion and counteracting the effects of loneliness.
With more creative intentions, the compact Scribit robot can render large-scale multi-colored images—sourced for the Internet or elsewhere—directly onto walls and windows. This could potentially be used by retail outlets, cafes/bars, and also for home decoration purposes. Last, but not least, for the more discerning business traveler, the Ovis from ForwardX Robotics is an AI-powered autonomous suitcase with machine vision that is capable of following its owner around hotel lobbies and airport terminals. It has a self-learning navigation system and object avoidance functions.
As always, it has been a highly entertaining CES showcasing the cutting-edge products, solutions, and innovations that will fuel the future.
'Bench Talk for Design Engineers' is the official blog of Mouser Electronics.