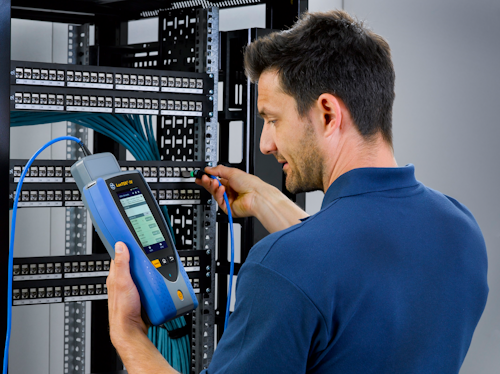 Ideal Networks now offers LanTEK IV, a copper and fiber certification tool that the company says provides a unique way to certify. "Engineers and technicians can conduct and save a Category 6A test within 7 seconds, assisted by the intuitive user interface and easy-to-use high-resolution touchscreen," Ideal Networks said. "The tester's enhanced functionality certifies links up to Category 8, including TCL [transverse conversion loss] and resistance unbalance, and will sweep to 3000 MHz, providing room for future ratified ISO and TIA test standards."
The LanTEK IV test package also includes the VisiLINQ permanent link adapter. Ideal Networks describes VisiLINQ as "a new and unique way to test that allows users to initiate testing and view the results without even needing to hold the certifier." The company says this capability allows technicians to save time and increase productivity. VisiLINQ's RJ45 tip is field-replaceable.
Tim Widdershoven, marketing director for Ideal Networks, said, "For years, some technicians have believed there is only one choice in this category, but LanTEK IV offers a better way, making the job faster, easier and more profitable. This is not just a re-badging exercise, but an entirely new, futureproof approach to cable certification."
LanTEK IV can connect to WiFi and to the Ideal AnyWARE cloud-based test-management system, which enables real-time collaboration between project managers and field technicians. "This new functionality enables project information and test setup to be preconfigured, saving time and eliminating potentially costly setup errors," Ideal Networks said. "Ideal AnyWARE Cloud also makes it quicker and easier than ever to prepare and share reports for customers and warranties."
Widdershoven added, "With enhanced connectivity, LanTEK IV also makes live support possible. Colleagues, cable manufacturers and our technical support team can all connect to LanTEK IV remotely, helping to increase collaboration, minimize troubleshooting time and reduce callbacks."
Companies acquiring three or more certifiers can participate in Ideal Networks' Test4Less program, through which users can employ a pay-as-you-test option.
Ideal Networks also is offering a trade-in program.
"We have been developing high-quality cable certifiers for 26 years and have brought many firsts to the industry," Widdershoven added. "We are proud to launch yet another unique innovation, which sets new standards and will change the way we certify, now and in the future."
LanTEK IV can be purchased directly from Ideal Networks, or through the company's distributor network.