OLTS provides Tier 1 testing and fiber inspection
Viavi Solutions says its OLTS-85/85P can turn any user into a 'fiber-smart technician' for Tier 1 testing as well as standard-compliance inspection.
Sep 25th, 2015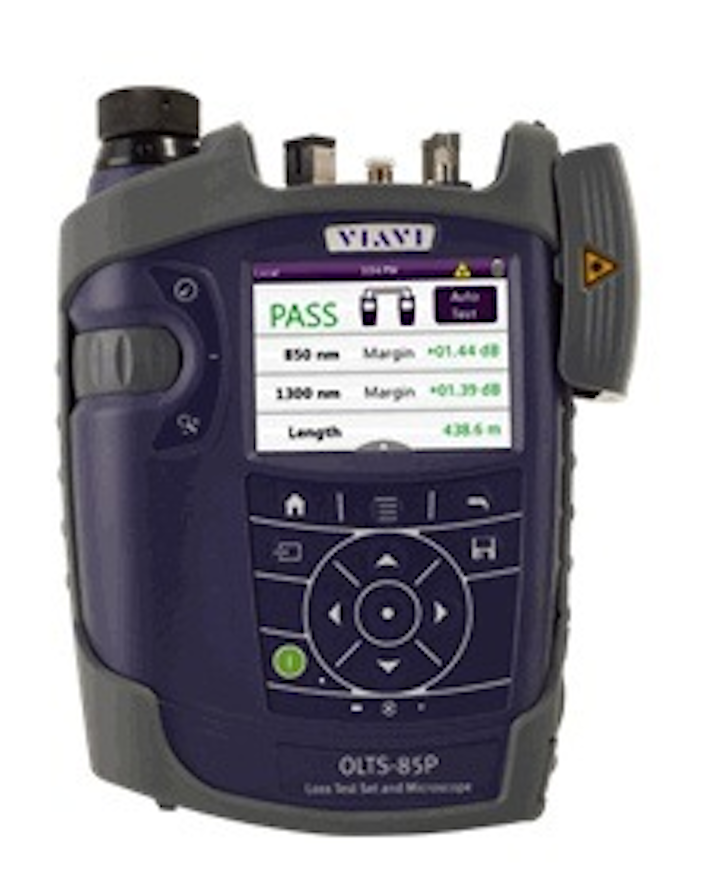 At the BICSI Fall Conference and Exhibition held in late September, Viavi Solutions introduced its OLTS-85/85P, a handheld tool that conducts Tier 1 testing as well as fiber inspection in accordance with IEC 61300-3-35. "This latest addition to the SmartClass Fiber family combines industry-standard Tier 1 fiber certification with the most advanced endface inspection available," the company said. "Supporting the P5000i digital inspection probe microscope for bulkhead inspection, having an integrated patch-cord microscope for test reference cord inspection, and providing this functionality at both the local and remote ends, the OLTS-85P is the first product to allow installers and technicians to meet the requirements of structured cabling standards without wasting valuable time."
The company continued that the OLTS-85/85P "can instantly turn any user into a fiber-smart technician. Cut testing and certification time in half and give customers confidence in their network quality at the push of a button."
Viavi Solutions emphasized the following characteristics and capabilities of the test tool.
Comprehensive Tier 1 testing in half the steps of other tools
Integrated fiber endface certification to industry standards or customer specifications
Full user control at both local and remote ends
Shared archiving between local and remote units
Singlemode, multimode and quad versions
Certification reporting with FiberChekPro
"When installing fiber or performing moves/adds/changes in an enterprise or data center environment, certification is the only way to ensure that the infrastructure can support the needs of the application," the company noted. "Furthermore, maintaining best practices and workflow efficiency are essential to getting the job done correctly and on time. The OLTS-85 gives technicians an enterprise-specific solution with all the capabilities needed for Tier 1 and endface certification in a fast and easy solution."