Tier 1 fiber certifier provides guidance throughout test process
The MaxTester 940 Fiber Certifier OLTS from EXFO combines a tablet-style design, wireless connectivity, and step-by-step guidance in a Tier 1 fiber certifier.
Sep 29th, 2015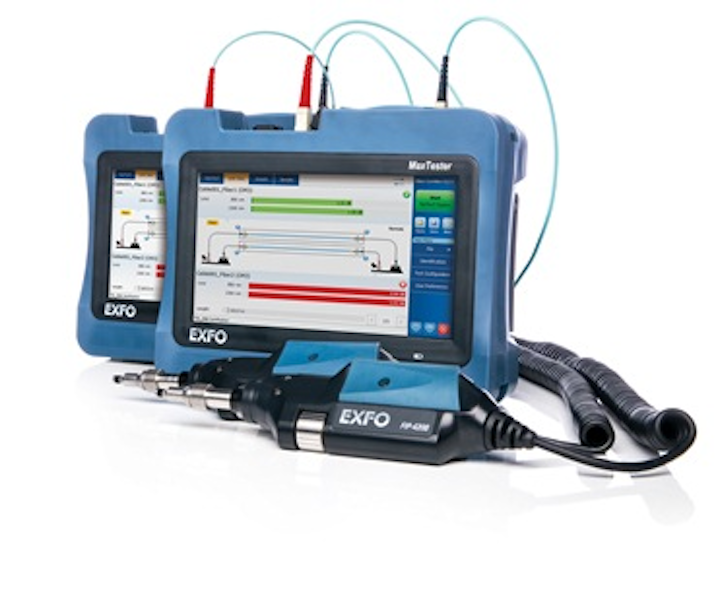 The MaxTexter 940 Fiber Certifier OLTS from EXFO is the newest addition to the company's portfolio of data center and enterprise fiber-optic testers. "Designed to help installation contractors, network engineers and IT maintenance technicians achieve faster, first-time-right system acceptance, this fiber certifier brings unmatched user experience and efficiency together with optimal cost of ownership in the latest tablet-inspired form factor," the company said.
The Tier 1 fiber certifier has an advanced suite of user-assistance features, EXFO also noted, including a step-by-step reference wizard, intelligent fault diagnosis, and patented margin meters. "The Max-940 provides expert guidance throughout the test process to ensure immediate efficiency by first-time users while removing the risk of errors or negative loss—a common source of issues in certification jobs," the company said.
The MaxTester 940 has a tablet-inspired design with a 7-inch, high-resolution touchscreen as well as a Windows-like interface. It offers integrated WiFi and Bluetooth connectivity and supports the company's EXFO Connect cloud-based test-asset management. The company stated, "Its on-board reporting capabilities allow technicians to document their work live from the field with no need for post-processing back at the office. This means technicians can close jobs, get paid, and move to the next one faster."
Both the main and remote unit of the Max-940 Tier 1 fiber certifier have full feature sets and are compatible with the FIP-400B automated inspection probe series "to quickly inspect connector endfaces at both ends," EXFO noted. "Now both technicians can see, understand, and act on the results while taking dirty or damaged connectors out of the equation."
MaxTester 940 comes with a three-year warranty as well as a calibration period of three years. "That equates to more peace-of-mind and less hassle," the company asserts.
Stephane Chabot, vice president of EXFO's physical layer test division, commented, "With the emergence of big data, OTT services and the advent of virtualization—from cloud services to SDN to NFV—more and more is expected from networks. Higher speeds, greater storage capacity and more agility are required, and we need to ensure that the network infrastructure can support these transformations without impacting the customer quality of experience and business-related SLAs. With the Max-940 Fiber Certifier, we are proud to bring a state-of-the-art certification solution with added value in user guidance and its unique efficiency-boosting features, based on our 30 years of experience and expertise in optical testing."