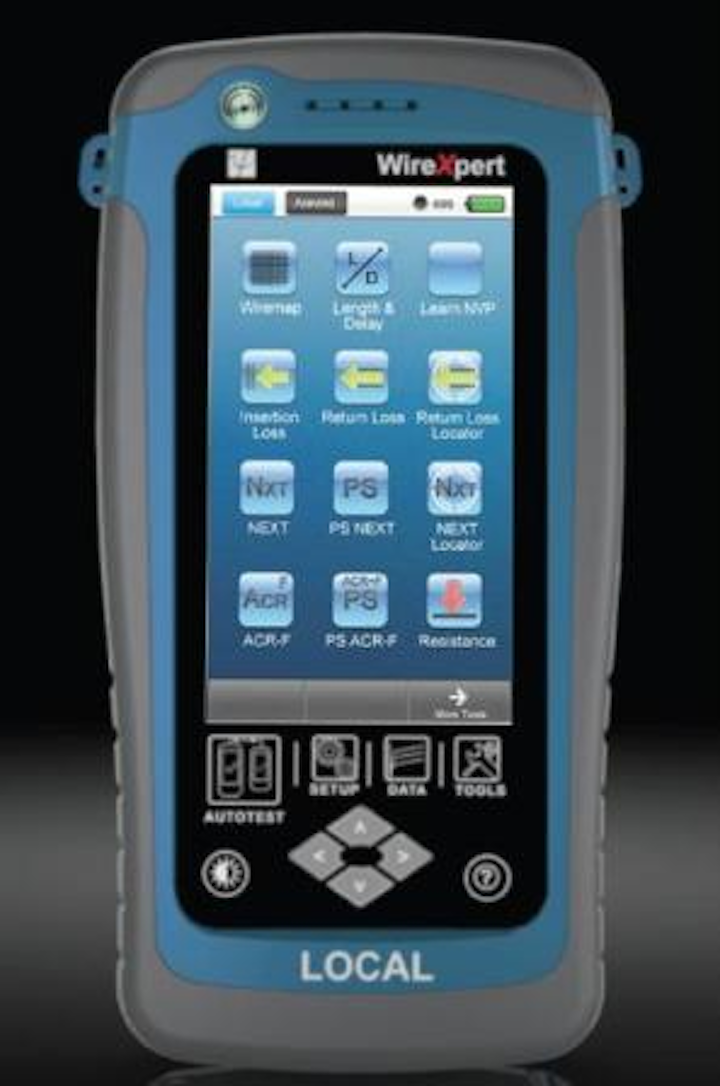 The WireXpert Cable Certifier from Psiber Data Systems tests cabling links and channels to 1600 MHz. The company says the tester performs a Category 6A certification in 8 seconds and a Category 7 or 7A certification in 14 seconds. Psiber also says the touch-screen instrument provides field testing performance comparable to that of lab-based test equipment with a pricetag under $10,000. The company also says the tester is "fully qualified and approved by major cable and connectivity manufacturers for all levels of testing."
When announcing the product, Psiber explained, "Manufacturers already are producing cables and connectors rated at the higher speeds that next-generation networks require. Certification of these advanced cabling installations in the field is critical to ensure that warranties will apply. Should cable performance issues arise, responsibility for support must be resolved between the installation contractor and the cable and connectivity manufacturer. ... The WireXpert provides assurance to the customer, contractor and manufacturer that the installation is performing to the specified level."
Darrell Johnson, president and chief executive officer of Psiber Data Systems, says the WireXpert far surpasses the requirements of the highest accuracy class (IEC 61935-1 2nd Edition) Level IV cable testers, which currently require accuracy to 600 MHz.
The tester's dual control system (DCS) uses two identical main units, which Psiber says significantly reduces manpower and allows a single person to perform a test and certify a cable.
Psiber says the tester has been approved by Siemon to test the entire Class FA frequency range out to 1000 MHz; it also has been qualified by CommScope, Leviton and Panduit, Psiber says.
"The WireXpert is designed with the objective of preparing our customers for testing future cabling systems far beyond the 1000-MHz Ethernet," Johnson said. The tester features a report generator that enables existing records to be recertified to new standards without having to retest. Optional multimode and singlemode fiber adapters are also available.
Check out the LAN Cable Tester section of our Online Buyer's Guide.