LanExpert tester spans physical layer to protocol analysis
The LanExpert 85 from Psiber Data Systems can replace a number of test tools for enterpise and service-provider networks.
May 27th, 2011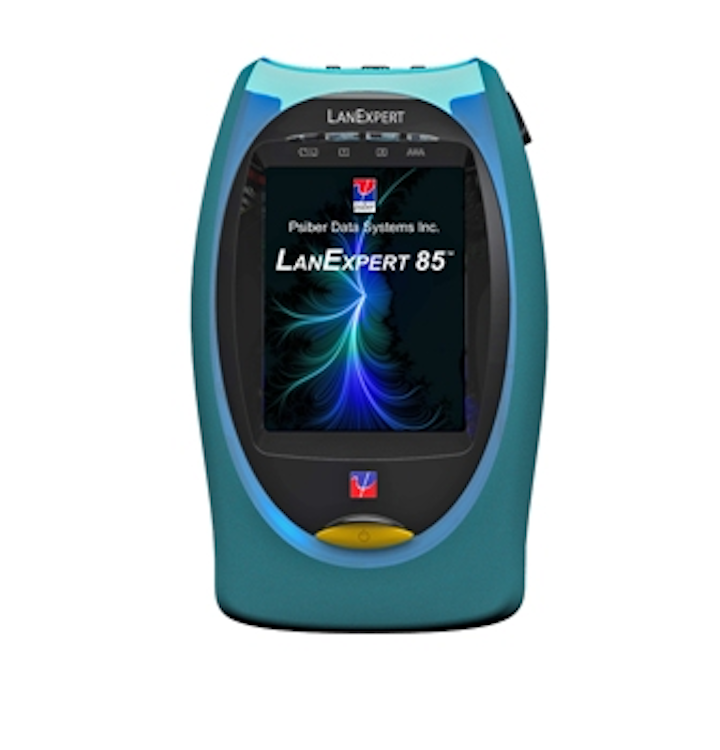 The LanExpert 85 from Psiber Data Systems is a handheld, copper- and fiber-capable cabling and network analysis tool with the capability to conduct tests from the network's physical-layer cabling up through packet analysis. Psiber says that when operating in "expert mode," the LanExpert 85 can pinpoint as many as 40 trouble spots along with recommending actions to be taken.
The tester uses an SFP-based platform, and with different modules can test singlemode- or multimode-fiber as well as twisted-pair copper connections. Also, the LanExpert 85 has the capability to conduct tests in inline mode, which the company's president Darrell Johnson says is a powerful capability that monitors actual data between network devices, thereby allowing the user to identify and correct problems that otherwise would be difficult to find. The tool is appropriate and useful in both enteprise and service-provider networks, the company notes.
In addition to checking cabling, the tester can verify connectivity across a network, capture packets and analyze them, measure bandwidth capacity and identify switches that are either failing or incorrectly configured. According to Psiber, this many-testers-in-one piece of equipment can replace tools including length meters, fault locators, protocol analyzers, traffic generators and stress-test equipment among others.
From a data sheet for the LanExpert 85, here is a list of the product's capabilities.
Link detection
Ping-and-trace route to verify network connectivity
Single-ended or inline packet monitoring
Filtering and capture to identify and solve problems
User-defined traffic generation and structured RFC 2544 stress test to predict network performance under various load conditions
Loopback, VoIP and email tests to ensure performance of network services
Starting price for the LanExpert 85 is $2,495.
Psiber offers an online interactive demo of the product, which you can conduct here.