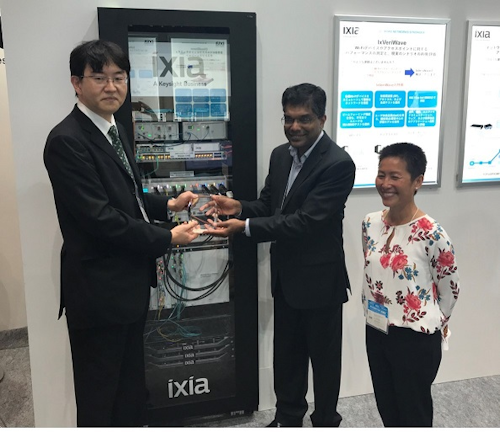 Dr. Masafumi Oe, assistant professor, Astronomy Data Center, National Astronomical Observatory of Japan, Ram Periakaruppan, vice president, product development, Ixia Solutions Group, Keysight Technologies, and Thananya Baldwin, vice president, strategic programs, Ixia Solutions Group, Keysight Technologies, receive the Best of Show Award at Interop Tokyo 2018 for the AresONE-400GE test system. (Photo: Business Wire)
The AresONE-400GE test system from Ixia, a business of Keysight Technologies, Inc. (NYSE: KEYS), was named Best of Show at Interop Tokyo held June 13-15, 2018 at Makuhari Messe in Chiba, Japan.
During the event, Ixia demonstrated the AresONE-400GE system, using second generation alpha LR8 QSFP-DD optics from Source Photonics, running full 400GE line rate against its production-released K400 platform. Its remaining ports featured full line-rate traffic using various lengths of direct attached copper cables from multiple vendors. The new AresONE-400GE platform demonstrated aggregate Ethernet traffic of 3.2 Tbps.
Approximately 500 companies and organizations exhibited at Interop Tokyo 2018, introducing products, solutions, and services, from which IT experts selected the winners for Best of Show awards. Ixia's AresONE-400GE test system received the Best of Show award in the event's Management, Monitoring & Testing category.
"Keysight is honored that the AresONE-400GE test system was recognized by the judges at Interop Tokyo as Best of Show," said Ram Periakaruppan, vice president, product development, Ixia Solutions Group, Keysight Technologies. "While at the show, Ixia showcased the AresONE-400GE demonstrating 3.2 Tbps of Ethernet traffic. This second generation 400GE platform offers unparalleled capacity and density in a compact 2 RU form factor, which is critical to users when selecting their 400GE test systems."