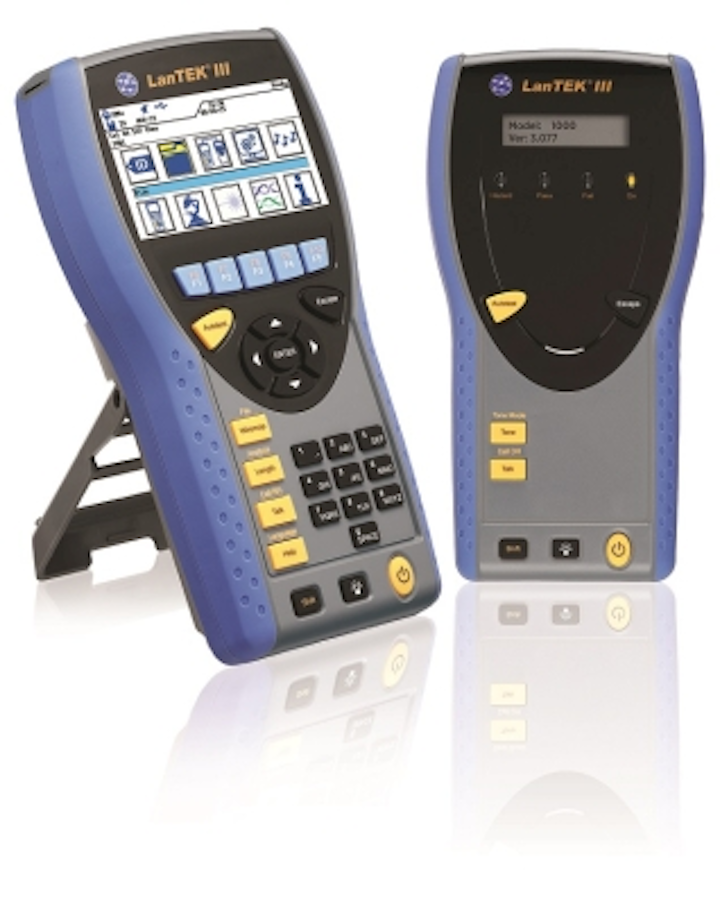 Ideal Networks recently announced that users of its LanTEK III cable certification tool, who already have Category 6A permanent link and channel adapters, need only a free software update to be able to certify modular plug terminated links (MPTLs).
"The existing Ideal Networks Category 6A channel adapter for the LanTEK III cable certifier already uses the approved 'centered' jack that can be used to measure the performance of RJ45 plugs," the company explained. "Therefore, to equip the tester with the capability to test MPTL, users can simply download a free software upgrade at idealnetworks.net. Once the software is installed, by configuring a LanTEK III with a channel adapter on one handset and a Cat 6A permanent link adapter on the other, a proper MPTL certification test can be performed." (Illustration below.)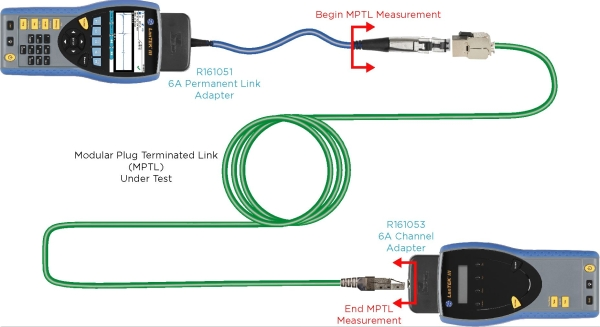 The term MPTL refers to a link in which the twisted-pair cable is terminated with a female socket (jack) on one side and a male plug on the other. "This practice enables the cable to be plugged directly into a device, thereby connecting it to a network without installing an additional outlet," Ideal Networks added. "This proves useful where the location of the device makes installing an outlet challenging, such as devices on ceilings, external walls or in media cabinets."
Dan Payerle Barrera, global product manager for Ideal Networks, commented, "Certifying MPTL cabling isn't for everybody. However, if you're installing a high-performance cabling infrastructure using Cat 6A cable for wireless access points, AV equipment and CCTV cameras, or an application anticipating high-bandwidth demand, it's important to understand the challenges and requirements of certifying MPTLs.
"As well as understanding how MPTL differs from other installations and the details of the new standard, installers also need to consider the equipment required to conduct performance tests," he added.
"Not all RJ45 tester sockets can be used to measure plug performance, as the socket must be centered," Barrera noted, "'centering' being the term used to define a connector whose performance is in the middle of the acceptance performance envelope."
Users of the LanTEK III who do not have a channel adapter can purchase the adapter individually from the company. Separate channel adapters will be required by users who wish to test Category 6 and Category 5e MPTL cabling.
Barrera added, "Our testers use quality components and are developed with the future needs, and budgets, of installers in mind. As cabling standards change there is no need to invest in large amount of expensive equipment as with our solutions, normally only a software update or small accessory is required. Plus, our solution for certifying MPTL will predate the new [ANSI/TIA-568.2-D] standard being finalized, so installers can rest assured that they are equipped to conduct tests as soon as it is published."
Ideal Networks pointed out that having the right tester is not the only factor required to ensure success with MPTL installations. In a white paper titled "The Rise of Modular Plug Terminated Links," the company explains that type of RJ45 plugs typically used in these installations are low-cost, low-quality plugs. "These are not of a suitable quality to pass certification, so tests will return a fail result," Ideal says. "Therefore, installers that need to certify MPTL must first ensure that the installation uses proper field-terminable plugs for Cat 6/6A and higher performance. This is the only way to obtain accurate test results and proof of performance for customers."