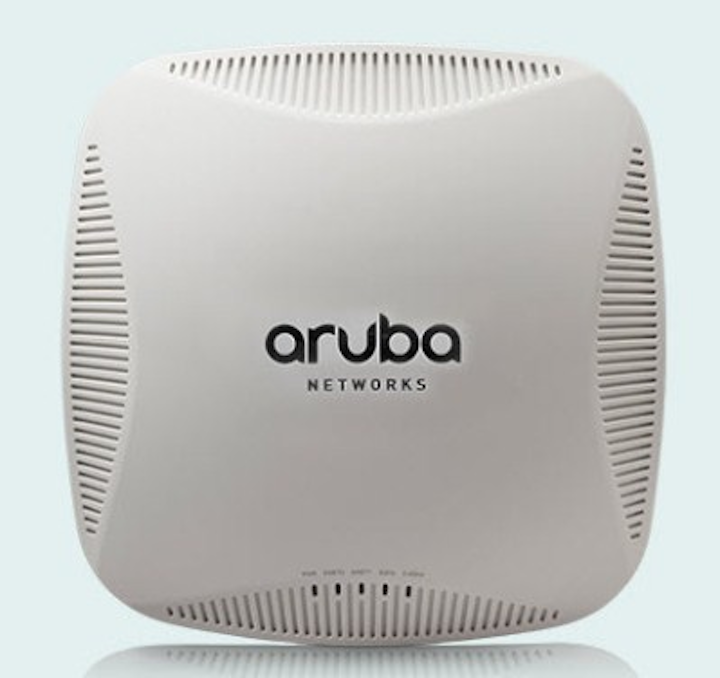 Evidently, acquisitions valued near $3 billion are becoming commonplace in the cabling industry and those of the applications that cabling serves. First CommScope and TE Connectivity announced the impending acquisition of TE by CommScope. Then, in the network security space, Canon's overture to Axis Communications was unanimously accepted by Axis's board. Now, 802.11-based wireless LAN technology provider Aruba Networks is being acquired by HP in a deal the companies say has an "equity value" of $3 billion and "net of cash and debt approximately $2.7 billion." The deal was announced by both companies Monday, March 2.
Aruba, with approximately 1,800 employees, had revenues of $729 million in its fiscal year 2014, the companies' announcement said, adding that Aruba has enjoyed a compound-annual growth rate of 30 percent for the past five years.
"Aruba boasts a highly regarded innovation engine and specialized sales, marketing and channel model, complementing HP's leading networking business and go-to-market breadth," the announcement added. "Together, HP and Aruba will deliver next-generation converged campus solutions, leveraging the strong Aruba brand."
The announcement further observed, "With the shift to mobile, enterprise networking needs are exceeding the capabilities of legacy infrastructure. At the same time, organizations are shifting rapidly to mobility-centric workplaces for their employees, guests, customers and students. The next-generation 802.11ac WiFi standard is critical in enabling this trend. This new technology will support the faster speeds and access to cloud applications that end-users expect. Enterprises need comprehensive, integrated and secure networking solutions to help them transition legacy systems to the wireless age. Today's announcement directly addresses these market trends."
HP's chairman, president and chief executive officer, Meg Whitman, commented, "By combining Aruba's world-class wireless mobility solutions with HP's leading switching portfolio, HP will offer the simplest, most-secure networking solutions to help enterprises easily deploy next-generation mobile networks."
Aruba's chief executive officer, Dominic Orr, will lead the combined organization along with Aruba's chief strategy and technology officer Keerti Melkote; both will report to HP enterprise group leader Antonio Neri. Orr said, "This transaction brings together Aruba's best-of-breed mobility hardware and software solutions with HP's leading switching portfolio. In addition, Aruba's channel partners will have the opportunity to expand their business with HP offerings."
The companies said they expect the transaction to close in the second half of HP's fiscal year 2015.