In-building DAS antennas are optimized for low PIM
Pulse Electronics introduces its PIMinator antennas, whose -155 dBc PIM rating enables fewer dropped calls with higher cellular data rates.
Jan 21st, 2014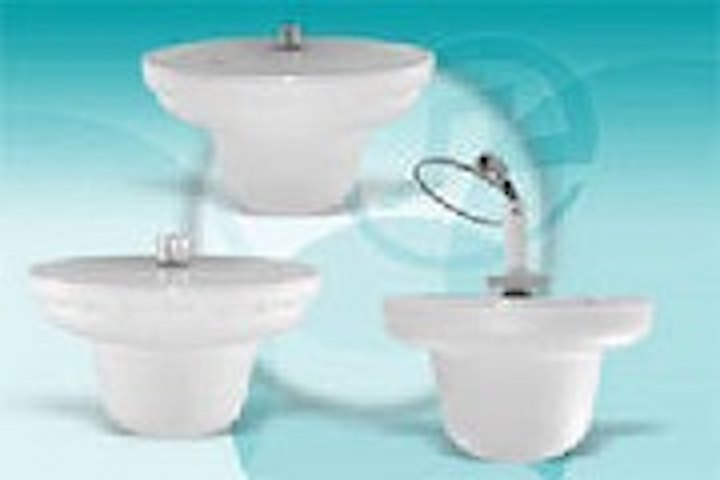 Pulse Electronics (NYSE: PULS) has introduced 3 new low passive inter-modulation (PIM) distributed antenna system (DAS) in-building antennas for ceiling-mount, omni-directional applications. With a purported industry-leading PIM spec of -155 dBc at 2x20 watts, Pulse says its new line of PIMinator in-building DAS antennas meets the most demanding requirements of cellular operators and integrators of low PIM components for 2G, 3G, and LTE/4G bands.

The DASLTE500NF, DASLTENF, and DASLTEDIN are the first in Pulse's emerging line of PIMinator antennas for DAS networks. The units have a diameter of 8.27" (210.2 mm) with a height of 4.81" (122.1 mm). The DASLTE500NF antenna has a 500 mm plenum rated coaxial pigtail with N female connector; the DASLTENF antenna has an N female connector; and the DASLTEDIN has a female 7 16 DIN connector for easy connection to DAS networks.
The low PIM antennas meet the demand for high data rates and streaming video for mobile devices covering cellular bands, WiFi, and WiMAX from 698 through 5900 MHz; their wideband design meets the needs of operators around the world, says Pulse. Having an indoor DAS allows users to receive cellular coverage inside a building instead of depending on a cell site outside the building, notes the company.
"Low PIM is the key to the performance of DAS systems," comments Paul Fadlovich, director of infrastructure, Pulse Electronics' Wireless Division. "PIM reduces or degrades base station performance. With low PIM there are fewer dropped calls, higher data rates, and fewer problems for cellular phone users and operators to deal with. The Pulse PIMinator PIM spec of -155 dBc truly enables these systems to be maximized."

The patent-pending PIMinator antennas are housed in aesthetically pleasing injection-molded radomes. They are RoHS compliant and PIM certified, and come individually boxed or bulk packed. More information on the individual antennas can be found on the following PDF datasheets: DASLTE500NF; DASLTENF; DASLTEDIN.

More news: Pulse Electronics debuts 10GBase-T integrated connector module