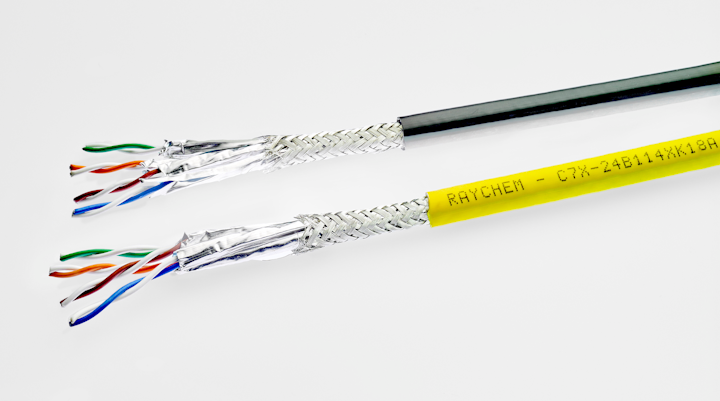 TE Connectivity
TE Connectivity (TE), a specialist in connectivity and sensors, has introduced its Raychem Cat 7 cables. Optimal for harsh military marine and defense applications, the manufacturer notes that these ruggedized cables include features that optimize performance under tough conditions.
TE's Category 7 cables support speeds up to 10Gb/s over four jacketed, individually-shielded and twisted pairs. Utilizing the material sciences expertise developed by Raychem, TE is able to offer a host of options such as its low smoke, zero halogen jacket (ZEROHAL), which is approved to UK Defense Standard 61-12 Part 31.
Constructions are available in 23 AWG solid bare copper and 24 AWG stranded tin coated copper that meet IEC 61156-6 electrical requirements for Category 7 cables. "Our Raychem Cat 7 cables are designed for versatility and performance," comments Mark Johnstone, product manager for TE's Aerospace, Defense and Marine division.
TE's Raychem Cat 7 cables are especially designed for a variety of military and defense applications. Among these are missile warning systems, radio communication, remote weapon systems, fire control systems and high-speed networking.
"These cables are Raychem harness system -compatible and can be used with other TE products like CeeLok FAS-T or CeeLok FAS-X connectors, making system integration easier for our customers," adds TE's Johnstone. Learn more about TE's Raychem Cat 7 Ethernet cables.