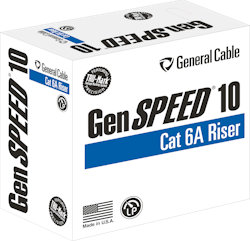 Prysmian Group
Prysmian Group made enhancements to its GenSpeed Category 6A cable portfolio. It now offers GenSpeed 10 MTP and UTP Category 6A cables for riser (CMR) applications, GenSpeed 10 UTP Category 6A cables with indoor/outdoor rating, and Reelex Pull-Pac packaging for its Category 6A products.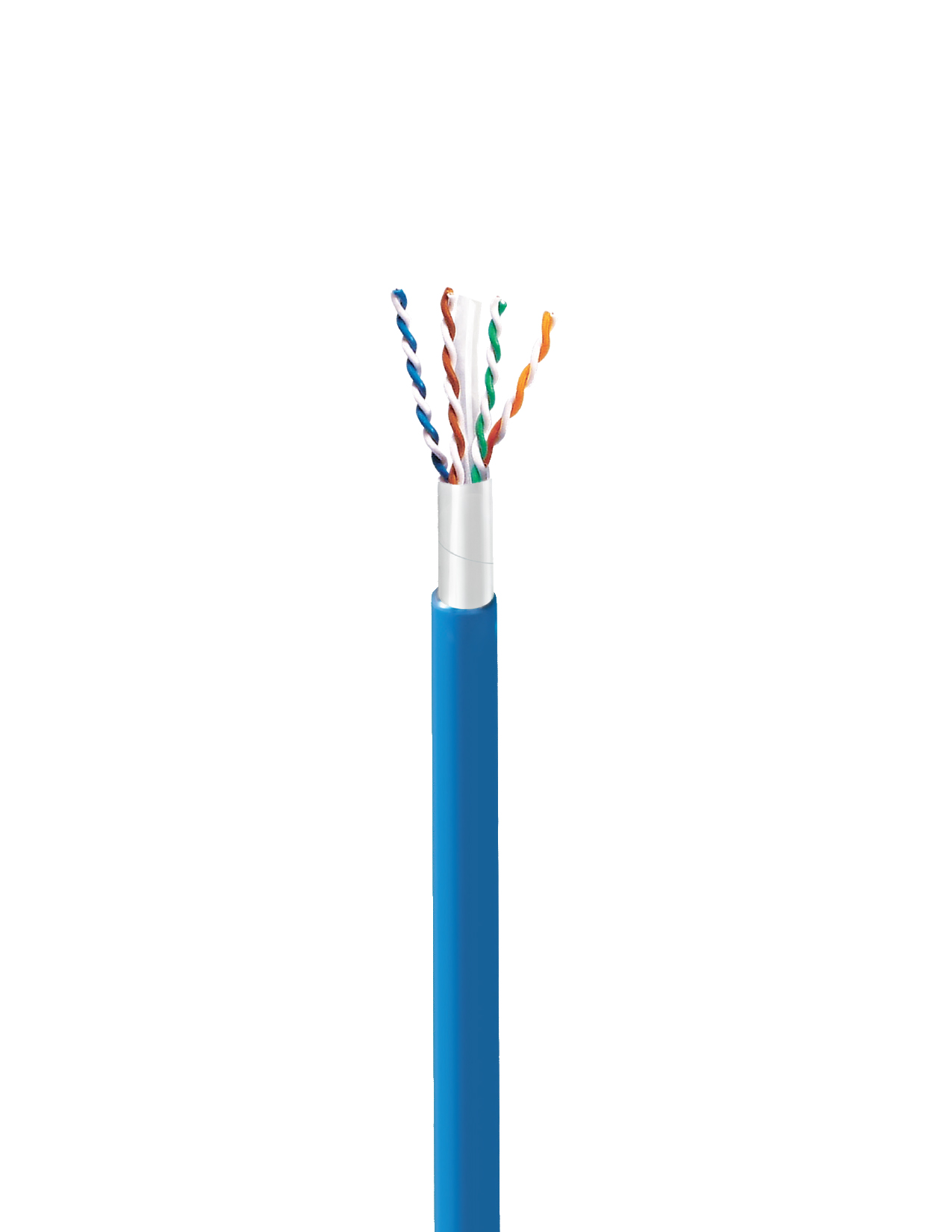 Prysmian's Category 6A cables incorporating mosaic twisted pair (MTP) technology measure in at a 0.255-inch outer diameter.Prysmian Group
"We continue to look for ways to enhance our GenSpeed product portfolio and provide real value to our cusomters," said Matt Marcus, datacom product manager for Prysmian. "The industry is evolving and looking for smaller, lighter, and more-flexible products, and the GenSpeed family of products is a proven leader. We are creating the most technologically advanced products in the market as we continue to invest in world-class equipment and solutions."
The GenSpeed 10 MTP and UTP Category 6A cables are now available for riser/CMR applications. The products feature a 0.255-inch outside diameter for MTP (mosaic twisted pair), and a 0.260-inch OD for UTP (unshielded twisted pair). "With the small diameter, GenSpeed Category 6A riser cables are lighter and more flexible, allowing for increased conduit or tray fill capacity, smoother cable routing and easier installation," the company said.
The new GenSpeed 10 UTP Indoor/Outdoor Category 6A cable is also available as part of the GenSpeed product line. "Prysmian is dedicated to bringing reliable and reputable products to market with a proven track record of innovation, particularly with respect to Category 6A cables," Marcus continued. "The indoor/outdoor cable extends the reach of 6A applications in wet environments."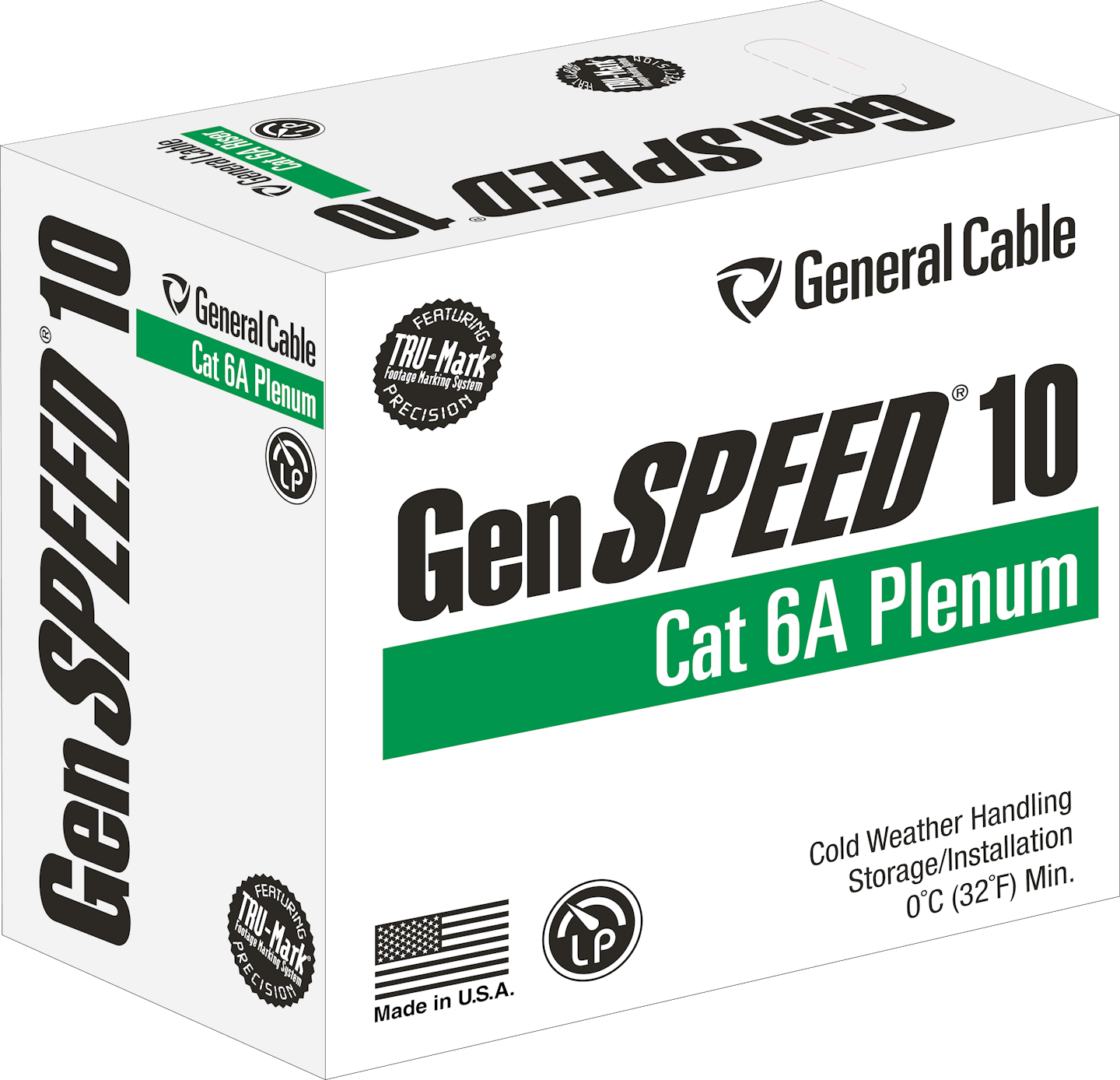 All cables in Prysmian Group's GenSpeed Category 6A product line are now available in Pull-Pac packaging, which uses Reelex tangle-free technology.Prysmian GroupIn addition to these new-product introductions, Prysmian's entire portfolio of GenSpeed 10 Category 6A cables are now available in Pull-Pac packaging that uses Reelex tangle-free technology, which is a patented method of winding cable into a figure-8 coil. "This method results in a reel-less, self-supporting coil that dispenses from the inside out without twists, tangles, snags or overruns," the company said, "translating to simplified cable management and installation, improve transportation efficiencies and overall labor and project-cost reductions."
"We are focused on understanding what our customers' needs are today as well as how they will change in the future," said Rob Tully, Prysmian vice president of sales. "We are excited to offer the most-innovative products in the market and to be the first manufacturer in the industry to offer small-diameter 10-Gig Cat 6A cables in Pull-Pac packaging. We are proven leaders in this industry and are proud to continue enhancing our products to give our customers the best benefits on the market."